Decades Later, the Plan Continues to Outweigh the Man
Dr. Wilmer J. Leon III | 9/11/2013, 3 p.m.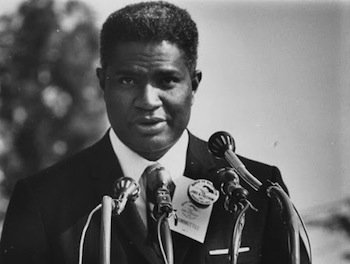 On June 18, 1971 actor and activist Mr. Ossie Davis gave the keynote address at the first fundraiser for the Congressional Black Caucus (CBC). His remarks were titled It's Not the Man, it's the Plan. Davis believed that the problems facing the African American community were so significant, "we stand at a dangerous but exciting junction of history." He called for the thirteen members of the CBC to develop a plan. He gave his remarks a title because he believed the time for rhetoric had passed and he wanted his remarks to have "a subject, a title, [and] a text."
Davis saw one of the major problems facing the African American community as being the obsolescence of the unskilled labor force through automation and mechanization. "Among our people, out of every four jobs in the past, three have been in the classification of unskilled-the rough jobs that required very little education."

He believed that the Black family would be relegated to the welfare system. "…welfare is society's answer to economic dislocation (in our cities), to its endemic unemployment for which it has no solution, nor the determination to find a solution."
In 2013 mechanization and automation have been replaced by globalization and the exportation of jobs to other countries. According to The NY Times from 1999 to 2009, multinational companies with headquarters in the United States that had previously accounted for job growth "eliminated a net of nearly 3 million jobs in the United States while adding another 2.4 million jobs abroad."
In 2013 welfare has been replaced by mass incarceration as society's answer to economic dislocation. The prison-industrial complex has become one of America's answers to its unemployment problem. There are close to 2.2 million people incarcerated in America of which African American's make up approximately fifty-two percent. In a recent article by Christopher Hedges, "The United States has spent $300 billion since 1980 to expand its prison system. We imprison 2.2 million people, 25 percent of the world's prison population. For every 100,000 adults in this country there are 742 behind bars. Five million are on parole. Only 30 to 40 percent are white."
Poverty and other factors such as racial profiling and draconian drug laws are major contributors to the incredible increase in the American prison population and its extreme racial imbalance. Hedges writes, "In poor communities where there are few jobs, little or no vocational training, a dearth of educational opportunities and a lack of support structures, there are, by design, high rates of recidivism-the engine of the prison-industrial complex."
During his remarks, Ossie Davis reflected upon Dr. King's 1963 "I Have a Dream" speech saying, "I remember coming to Washington in 1963…when Dr. King said to the nation, "I have a Dream!" Now, that dream in 1963 was not realized then, it was not realized at the time of his death, and it has not been realized now." Having just commemorated the 50th anniversary of the March on Washington for Jobs and Justice, it remains obvious that the "Dream" is juxtaposed against our continued nightmare.