Faith Ringgold's Works on Exhibit
National Museum of Women in the Arts Display Paintings of Famed Feminist and Activist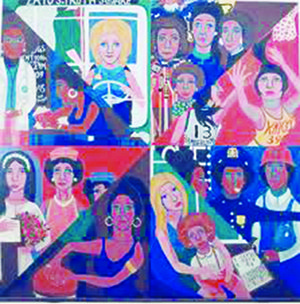 Throughout her illustrious career, artist Faith Ringgold has been told that men rule the world. Some had even encouraged the famous quiltmaker not to bother putting her name on some of her own work.
Those who offered that misguided advice simply didn't know much about the determined Ringgold, a painter, writer, speaker, mixed-media sculptor, performance artist, civil rights activist and feminist who lives and works in Englewood, N.J., and whose work, "American People, Black Light: Faith Ringgold's Paintings of the 1960s," is currently on display through Nov. 10, at the National Museum of Women in the Arts (NMWA), in Northwest.
"In the 1960s, we did a lot of political posters and we'd give them away. People would say not to bother putting your name on it and I thought, wait a minute, those people are crazy," said Ringgold, 83.
However, in the 1960s, the art world proved to be silent on the political issues of the day, including civil rights, Ringgold said.
"Everyone else had come together to see how they could make things better, but not the art world because I think they realized they wouldn't be able to sell the art," she said.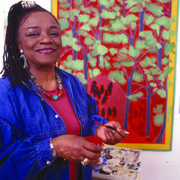 Still, Ringgold created artwork that proved controversial but are now among the most sought after and legendary pieces of art.
The works on exhibit at the museum include Ringgold's 1963 oil on canvas, "American People Series #1: Between Friends." That year, Ringgold and her daughters, Barbara and Michele, stayed with family friends Dr. John and Mrs. Bernice Brown Goldsberry at their summer home on Martha's Vineyard. It was on the Goldsberry's front lawn, that Ringgold set up her easel and produced five paintings that would become the first works in her "American People" series.
"The paintings depict an uneasy meeting between a black and a white woman and was inspired by the women who came to weekday poker parties at the Goldsberry's house while their husbands were in their offices in town," she said.
Ringgold said she thought the white women were simply representing their husbands, and she could sense a lack of genuine friendship between the women.
"As an artist, I was looking for a way to document what I was seeing. I had been painting landscapes and flowers, still life pictures because nobody ever taught anything about black art," she said.
Ringgold primarily turned to painting landscapes, which depicted various interactions and confrontations between blacks and whites. The paintings included work that featured people of all ages, races and genders struggling through rampant violence and bloodshed. Ringgold said the work, which she titled, "Die," represented her reaction to the race riots of the 1960s.

Art galleries, however, showed no interest in the work. When Ringgold decided to visit the Ruth White Gallery in New York and pitch her paintings to White personally, the overture met quick dismissal.
"She said a black woman simply couldn't paint those landscapes during such a tumultuous time," Ringgold said. "But, I said that I'd take that negative and turn it into a positive, I'm an artist, so I know how to do that."