Faith Ringgold's Works on Exhibit
National Museum of Women in the Arts Display Paintings of Famed Feminist and Activist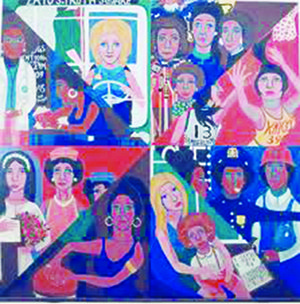 She later included in her work, "the Artist and his Model," which depicts a white male artist painting a nude female subject, a prevalent motif in historical western art.
Ringgold, however, subverted the subject by depicting a black male artist painting a nude white female model, something unprecedented for a black female artist, during a time when African Americans continued to struggle for equality and justice.
The painting challenged both social norms and conventional narratives in art history. "It was an emotional time and there were contentious issues," she said.
Ringgold plans to visit the museum on Oct. 28 to discuss the exhibit, which showcases many of her bold and provocative paintings that she created in response to the civil rights and feminist movements.
"In this important anniversary year for the civil rights movement, the museum is proud to show these little known but important early paintings by Faith Ringgold," said museum director, Susan Fisher Sterling.
"This engaging and challenging exhibition reflects the depth of Ringgold's work and the compelling issues she addresses. Art and activism in the 1960s broadened opportunities within the art world for women artists, a goal we continue to strive for at the National Museum of Women in the Arts," Fisher Sterling said.
The exhibit includes 49 works from, "American People," and "Black Light," another provocative series by Ringgold, along with related murals and political posters.
A professor emeritus at the University of California, San Diego, Ringgold has received more than 75 awards, including 23 honorary Doctor of Fine Arts degrees.
She has received fellowships and grants that include the National Endowment for the Arts for sculpture and for painting; the La Napoule Foundation Award for painting in France; the John Simon Guggenheim Memorial Foundation Fellowship for painting, and many others.
Ringgold's art also has been exhibited in museums and galleries in America, Europe, Asia, South America, the Middle East, and Africa.
"This is extraordinarily exciting to have an exhibit at the National Museum of Women in the Arts in Washington, because it's the only women's museum in the world," said Ringgold, who also has published 16 children's books. She plans to release her next book in 2014 about the Harlem Renaissance.
She said she still champions the rights of women in a male dominated society and Ringgold noted that the civil rights and feminist struggles continue today.
"A lot of the issues, and I've stated this before, still haven't been addressed. This is typical, kind of when there is a problem, the group that has the issue rises to the occasion and speaks out and there are some parts that are addressed and then when you look around, we're right back where we started," she said.
Faith Ringgold's pointed political paintings of the 1960s are the focus of "American People, Black Light: Faith Ringgold's Paintings of the 1960s," an exhibition on view at the National Museum of Women in the Arts through Nov. 10. The museum is located at 1250 New York Avenue NW in Washington, D.C., in a landmark building near the White House. It is open Monday-Saturday, 10 a.m.-5 p.m. and Sunday, noon-5 p.m. Admission is $10 for adults, $8 for visitors 65 and over and students, and free for NMWA members and youth 18 and under. Free Community Days are on the first Sunday of the month. For information, call 202-783-5000 or visit www.nmwa.org.