Obama Makes Case to Skeptical Public for Military Action in Syria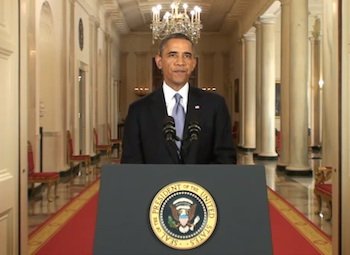 President Barack Obama addressed the nation Tuesday night during prime time, explaining his rationale as to why the U.S. should punish Syria for a chemical weapon attack he blames on President Bashir Al-Assad.
Obama, in a 15-minute address from the White House, said America had a moral obligation and national security interest in launching military strikes against Syria.
"[As the civil war raged], America worked with allies to provide humanitarian support, to help the moderate opposition, and to shape a political settlement, but I have resisted calls for military action because we cannot resolve someone else's civil war through force, particularly after a decade of war in Iraq and Afghanistan," the president said. "The situation profoundly changed, though, on August 21st, when Assad's government gassed to death over 1,000 people, including hundreds of children. The images from this massacre are sickening: men, women, children laying in rows, killed by poison gas, others foaming at the mouth, gasping for breath, a father clutching his dead children, imploring them to get up and walk."
On that terrible night, Obama said, the world saw in gruesome detail the ghastly nature of chemical weapons and why the overwhelming majority of the world has declared them off-limits, a crime against humanity and a violation of the laws of war.
After his address, a CNN poll, reflecting other polls over the past few weeks, showed that half of the people surveyed are against American military involvement in Syria.
To push home the idea, several hundred protestors, most bearing yellow placards and banners and chanting lustily against war on Syria, marched from the White House to the U.S. Capitol Saturday afternoon.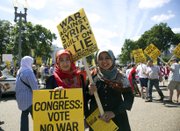 Their aim, speakers and marchers said, was to pressure Obama to change his mind about bombing the Middle Eastern country, which is bordered by Turkey, Lebanon, Israel, Iraq and Jordan. Syria has been enmeshed in a brutal and bloody civil war for more than 30 months. More than 100,000 people have died in the fighting, and about two millions Syrians have been displaced or have fled the country.
Over the course of the last week, Obama has stepped up his rhetoric and he and others in his administration have sought to make a case to the public, Congress and the international community that Syria must be punished for its use of sarin gas against civilians.
"I'm here because I'm completely against military action in Syria," said 26-year-old Howard University graduate student Indigo Pierre at the Sept. 7 demonstration. "Any action would be premature. I protest often and I'm very encouraged by the number of people out here. I wish there were more African Americans out here. Hopefully that will change."
The demonstrators marched along Pennsylvania Avenue, detoured onto Indiana Avenue and came back out on the street not far from the Capitol complex. They were trailed by a phalanx of police vehicles and they moved under the watchful eyes of scores of D.C. Metropolitan Police and Capitol police officers. Among the signs: "Hands off Syria!" "War Against Syria Built on a Lie," "Bombing Syria Doesn't Protect People, It Kills Them," and "Iraq, Libya, Syria – Endless War for Empire."