Obama Makes Case to Skeptical Public for Military Action in Syria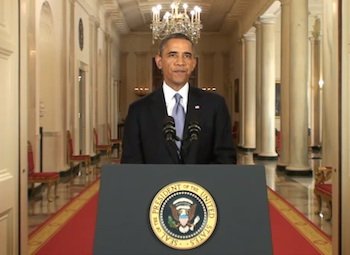 The group streamed past the Capitol's House and Senate, chanting and pumping their fists, egged on by Eugene Puryear, Brian Becker and other activists who bellowed into bullhorns. Across from the Longworth Building on Independence Avenue in Southwest, protestors jumped down off a small ledge and filled the street.
"These three buildings are where the House of Representatives has offices," said Becker, director of the Answer Coalition which organized the protests in Washington, D.C. and 30 other U.S. cities, including New York, San Francisco, Los Angeles, Chicago and Boston. "On Monday, they'll be coming [from the Longworth Building to the Capitol] to vote. If you vote to authorize …"
"At that moment, two Capitol Police officers approached Becker and told him everyone had to clear the street. The crowd booed, whistled and encircled the officers, ignored their entreaties and marched further down the street.
"Whose street? Our street!" they chanted.
"We're marching with a permit so let's tell Congress, 'No More War!" said Becker.
In response to a comment Secretary of State John Kerry made in London that Syria would be spared a military attack if it surrendered its chemical weapons stockpiles, Russia's foreign minister Sergey Lavrov appeared to have gotten an agreement from his Syrian counterpart that Syria would comply.
Obama said the Russian initiative could deter military strikes.
"… Over the last few days, we've seen some encouraging signs, in part because of the credible threat of U.S. military action, as well as constructive talks that I had with President Putin," Obama said. "The Russian government has indicated a willingness to join with the international community in pushing Assad to give up his chemical weapons. The Assad regime [is now admitting] that it has these weapons and even said [it would] join the Chemical Weapons Convention, which prohibits their use," Obama said.
"It's too early to tell whether this offer will succeed, and any agreement must verify that the Assad regime keeps its commitments, but this initiative has the potential to remove the threat of chemical weapons without the use of force, particularly because Russia is one of Assad's strongest allies."
Obama said he's ordered the U.S. military to maintain its current posture to keep the pressure on Assad and to be in a position to respond if diplomacy fails. A number of supporters of military strikes said Syria would not be willing to consider this move without the threat of military force.
The president, Kerry and Defense Secretary Chuck Hagel have increasingly argued for limited targeted airstrikes to "deter and degrade" the ability of Assad to launch more chemical attacks. And in his comments Kerry said, this is not the time to be silent spectators to slaughter.
For people like Rania Masri, military strikes could open a witch's brew of unintended consequences capable of spiraling out of American control.
"On so many levels this is incoherent, absurd, criminal and barbaric," said the Lebanese educator and social justice activist. "This could trigger a regional war. They empower terrorists and cause a lot of death but I think we have a possibility of avoiding this."