Photographer and Icon Recall Special Day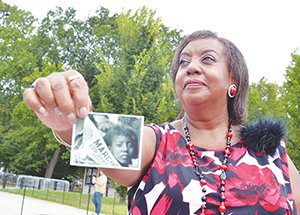 For Edith Lee-Payne and Rowland Scherman, theirs is a connection forged by a chance encounter 50 years ago.
Lee-Payne traveled from Detroit, Mich., with her mother Dorothy to Washington, D.C. to attend the historic March on Washington in 1963. Dorothy Lee had heard The Rev. Dr. Martin Luther King speak in Detroit and stirred by his remarks, she decided to make the trip to the Nation's Capital that August.
"Dr. King was in Detroit in June and asked us to join him," Lee-Payne recalled during an interview at the Lincoln Memorial on August 28. "He talked about problems in the South and my mother wanted to support him."
Mother and daughter boarded a Greyhound bus, taking the scenic route, Lee-Payne joked, and stayed with an aunt who lived on Just Street.
"I was really excited. It was my birthday," said Lee-Payne, 62. "I was excited, a kid seeing Dr. King for the second time. It was a pleasant experience, one filled with warmth and hope."
Scherman, 76 – the photojournalist who took the photo that made Lee-Payne the icon of the 1963 March on Washington – laughed when he thought about that day 50 years ago.
"I took pictures of the crowd. I was all over the place. I worked pretty hard that day," he said. "I was spry, athletic, climbing all over the place taking long shots and close-ups. The U.S. Information Agency – which doesn't exist anymore – hired me as a freelancer. I was too busy to hear the speakers. Everybody was there, Marlon Brando, Odetta, James Baldwin, Bobby Darin…"
Scherman said he served as a dark room apprentice at Life magazine. He was the first photographer for the nascent Peace Corps, and over the years, his photographs appeared in Life, Time magazine, National Geographic, Paris Match, Playboy and others. He captured Bob Dylan, Robert F. Kennedy, Janis Joplin, John Lennon, Peter, Paul and Mary, Joan Baez, Arthur Ashe, Woodstock and the Beatles' first U.S. concert, while photographing many of the political, musical and cultural events that marked the 1960s. An icon in his own right, he won a Grammy award for a picture of Dylan that became the cover of his greatest hits album.
A New York native who lives in Cape Cod, Mass., Scherman said he saw Lee-Payne standing by her mother and holding a banner, just to the left of King as he addressed the crowd of more than 250,000 people on the National Mall.
"There were 300,000 people here that day, and I stood beside her," Scherman said. "I was taking pictures of the crowd. I was 25 or 26 – I was a kid, a beginning freelancer. It was my first job. I got one picture of everybody. There was a lot of buzz about a month beforehand. I didn't know that this would be one of the great historic moments in American history."
Scherman said Lee-Payne's expression and her beauty captured his attention. Now, he acknowledges, her face represents the 1963 March on Washington.