Photographer and Icon Recall Special Day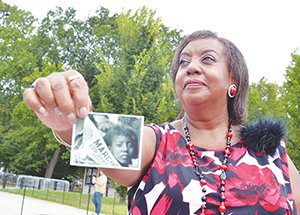 On the 50th anniversary, Scherman was busy taking pictures, talking to colleagues, watching events unfold onstage and conversing occasionally with Lee-Payne at the second commemoration of the march.
"I'm the one who made her a star and they can't even spell my name," he joked on Aug. 28.

Scherman stayed close to Lee-Payne, bantered with and photographed her, and later they went off to do interviews. As Lee-Payne stood listening to the speakers, she was constantly approached by people who recognized her and asked by media representatives for interviews. And in an interesting twist, she turned the tables on Scherman.
"I had someone take a picture of him taking a picture of me," the Detroit native said with a laugh.

Lee-Payne, a longtime activist in her hometown, said she enjoyed her time in Washington.
"I was here for a week and had more than 23 interviews. It was incredible," she said. "Those were the ones I could account for. They would see me interviewing and ask if they could interview me. Reporters from Germany, Barcelona, France News 1 and 2 interviewed me."
She said there were so many high points of her visit that she shared with her granddaughters Dejai and Destiny, who accompanied her. She visited a March on Washington exhibit at the National Archives which she said left a lasting impression.
"The exhibit was just 100 yards from the Constitution, the Declaration of Independence and the Bill of Rights. It was very humbling and brought tears to my eyes," she said. "I saw those historic documents, the greatest writings in history so close and I was overwhelmed and humbled."
"I also remember going to Ben's Chili Bowl and seeing my picture on the wall."
Lee-Payne said she enjoyed spending time with Scherman, who she met earlier this year when they were flown to Washington by BBC to be filmed.
"We were in the same hotel, met purely by accident. He happened to walk past me," she said. "I recognized him from the National Archives. I called out his name and followed him out the door. We just stared at each other and he said we weren't supposed to meet this way."
Lee-Payne said it's incredible to see so much attention paid to her because of a picture.
"I consider it a blessing from God. When something good happens in your life and it has nothing to do with you, it's really special," she said. "I see this as the favor of God on me."
Her visit to Washington proved to be bitter-sweet, Lee-Payne said.
"While reflecting on the day, I couldn't not think about my mother," she said. "I had a picture of her which was one way to keep her close to me."
Her mother, Lee-Payne said, worked as a domestic when the pair journeyed to Washington. Her mother, a native Washingtonian, left home as a young girl, seeking to pursue her desire to be a performer. Dorothy Lee was a dancer who performed with Duke Ellington and Cab Calloway, was a friend of Lena Horne and baby-sat for Sammy Davis Sr. She settled in Detroit where she met and married Lee-Payne's father.
"Whatever my mother experienced before I was born, her experiences in the South, her work as a domestic, her hearing Dr. King, for her to bring me, for me to be where I was, for that photograph to be taken at that particular time is what God orchestrated. This is all him. And because of the expression on my face."
"It was a wonderful day. I took particular pride in seeing President Obama stand where Dr. King stood. I'm sure it wasn't even a consideration that we'd have a black president. It was good for me to be with my granddaughters to share history. The rain didn't dampen the mood or spirit; I think everyone just took it in stride," Lee-Payne said.