Remembering Birmingham's Four Little Girls
Families Receive Congressional Medal on 50th Anniversary of Bombing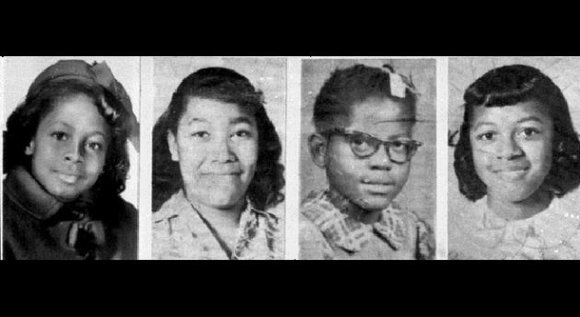 Written by Christina Ham, the play's director is Tony Award-winning actress Phylicia Rashad. No admission will be charged to those interested in attending the event.
Family members of the young bombing victims also received invitations to attend a special ceremony at the National Statuary Hall inside the Capitol on Tuesday, Sept. 10. Officials formally presented the distinguished Congressional Gold Medals to surviving family members.
"It's just very exciting for me," said Lisa McNair, who was born one year after her sister, Denise McNair, died in the bombing. "Hopefully, people now will learn not to be so hateful and remember how hate and anger harms so many," said McNair, 48.
The honor, which acknowledges heroism and bravery, counts as a profound statement in favor of civil and equal rights, said Dianne Braddock, the sister of Carole Robertson.
"I think the medal brings the country together and makes a statement about where we are as a nation," said Braddock, 69, who lives in Laurel, Md.
Rep. Terri Sewell, (D-Ala.), who along with Rep. Spencer Bachus, (R-Ala.), drafted and introduced legislation that led to the awarding of the medals, said it's an important moment for the families of the four girls who join civilians such as Pope John Paul II, baseball legend Jackie Robinson, and civil rights icons King and Rosa Parks in receiving the honor.
Prior to the awarding of the medals, a college scholarship program, had been established in the names of the four victims in Birmingham.
In 1997, filmmaker Spike Lee released the documentary, "4 Little Girls," which featured interviews with family members and friends of the young victims.
The film, which revisited the people and events that led up to the notorious hate crime, earned an Academy Award nomination for "Best Documentary."
"It is my sincere hope that their family members would receive this highest civilian honor in the humble spirit in which it was intended," said Sewell, 48. "I am pleased that this nation has finally honored the sacrifices of these four little girls. And, though we will never be able to replace the lives lost or the injuries suffered, this medal will serve as a compelling reminder of the sacrifices so many freedom fighters made to help us achieve equality and social change," she said.
It wasn't until 1977 that the murder case, which had gone cold, had been reopened by Alabama Attorney General Bob Baxley, who won an indictment against Klan leader Robert Chambliss, whom a jury later convicted of murder. Chambliss died in prison eight years after his conviction in 1985.
Two other former Klan members, Thomas Blanton and the late Bobby Frank Cherry had their day in court and a jury of their peers convicted the two men in 2001 and 2002 respectively, while the fourth suspect, Herman Frank Cash, died in 1994 before he could be tried.
"No matter who you are, or what color you are, when a kid is killed, it throws a different light on things," Tom Cherry, the son of one of the convicted bombers, recently told news reporters in Dallas, Texas, where he now resides.