Remembering Birmingham's Four Little Girls
Families Receive Congressional Medal on 50th Anniversary of Bombing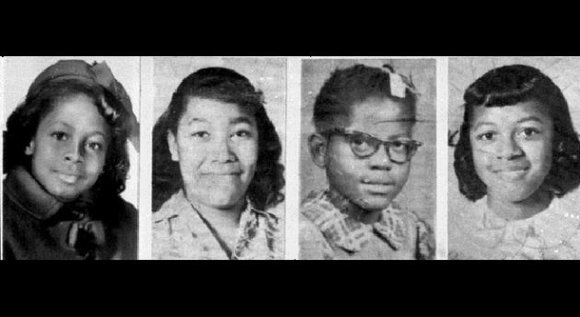 "I love my dad and I hate him. There's one part of me that wishes I'd killed him years ago. There's another that feels that all of what's happened to him is a result of the government plotting against him," said Cherry, 60. "And, there's [still] another [part] that feels he got what he deserved."
James Lowe, now a bishop at the Guiding Light Church in Birmingham, attended services the day of the bombing. Lowe said even some who once pushed back against the civil rights movement had a change of heart after the horrific incident.
Now 61, Lowe had recently turned 11 years old at the time of the bombing, but the memories remain fresh, he said.
"I was in a Sunday school room two doors down from where the bomb was placed," Lowe said. "I remember a loud, deafening noise and seeing glass flying out [of] the windows. Instinctively, I turned my back and shielded my head with my arms and, from that moment on, I lost an awareness of my friends that were in the room. It was as if a dark cloud had enveloped me," he said.
Birmingham became Ground Zero for hate, the most segregated city in the South, said Carolyn McKinstry, who recalled seeing the four girls, moments before the bombing.
"The phone was ringing as I climbed some steps and I went into the office and answered the phone and it was a male voice who said, 'Just three minutes,' and he hung up," said McKinstry, 64, the author of, "While the World Watched."
"The bomb exploded and I heard the windows come crashing in. I was a little bit in shock," she said.
"At the moment it exploded, I was trying to process what had happened. I was not familiar with death, the loss of kids, but the girls were gone and I knew I was never going to see them again."