Why Rent in DC When You Can Buy?
DC Open Doors is Your Key to the City
9/11/2013, 3 p.m.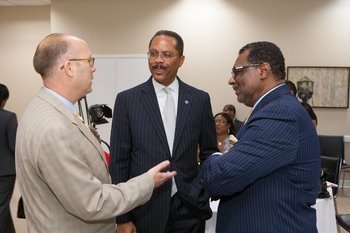 Many families and individuals that live and work in the District of Columbia are seeking affordable homeownership in what can be an unaffordable real estate market. With this need in mind the District of Columbia Housing Finance Agency has launched DC Open Doors – Your Key to the City. The program is designed to help as many people as possible get the mortgage financing and down payment assistance they need to help make homeownership affordable in Washington, D.C.
Harry D. Sewell, DCHFA Executive Director, has overseen the launch of DC Open Doors and believes the program serves a vital need in the challenging D.C. real estate market.
"Expanding affordable homeownership is a core part of our mission at the DCHFA," Sewell said. "DC Open Doors – Your Key to the City provides crucial assistance to those who want to become homeowners and those who want to remain homeowners, but need a helping hand."
DCHFA has thoroughly researched the local housing market to create a program that meets the needs of Washington's homeowners and prospective homeowners. This process has produced mortgage products that will truly boost affordable homeownership in the District of Columbia.
See the below Key Features to learn how DC Open Doors can help you.
Key Features
• Open to First Time Buyers, Step-Up Buyers and Existing Homeowners
• Open to All DC Neighborhoods and Wards
• FHA Loan and Fannie Mae Loan Products
• Down Payment Assistance Loans - 100% Financing
• Minimum Credit Score: 640 (referrals for credit assistance are available)
• Maximum Borrower Income: $123,395
The first step to apply for DC Open Doors is reaching out to a DCHFA-trained Participating Lender. Applicants can select a lender from their choice of seven different banks. The lender will personally guide applicant through the entire application process.
Banks serving as DCHFA-trained Participating Lenders
•​ American Bank
•​ First Home Mortgage Corporation
• ​George Mason Mortgage, LLC
•​ Industrial Bank
• ​Prosperity Mortgage
•​ Real Estate Mortgage Network
•​ Wells Fargo Bank
In addition, DC Open Doors is your key to the city because it has different products to meet the needs of various homeowners and prospective homeowners.
There are currently four products that DC Open Doors offers. They include the following:
FHA
The FHA loan finances 96.5% of your home's purchase price. FHA is typically the lowest interest rate loan product the DCHFA can offer to finance home buying in the District. It's ideal for prospective homeowners who already have their own down payment.
FHA Plus
The FHA Plus also finances 96.5% of your home's purchase price. In addition, FHA Plus provides down payment assistance in the amount of 3.5% of the purchase price, providing 100% financing. Prospective homeowners who need down payment assistance to buy a home in the District should consider this product.
HFA Preferred – Fannie Mae
The HFA Preferred loan is advantageous because the loan-to-value ratio is higher than most conventional loans and the mortgage insurance coverage is half of what is typically required. It's ideal for prospective homeowners who have their own down payment and a higher credit score. HFA Preferred can also be used by D.C. homeowners to refinance an existing mortgage.
HFA Preferred with Down Payment Assistance Loan – Fannie Mae
This product has all the benefits of the HFA Preferred, but it also offers 3% down payment assistance, resulting in the borrower only having to cover closing costs. Applicants for this product who are first time homebuyers must complete 8 hours of homebuyer education.
For more information on DC Open Doors – Your Key to the City visit, www.dcopendoors.com, @DCOpenDoors on Twitter and DC Open Doors on Facebook.