DC Health Link Fields Deal with D.C. United
dc.gov | 9/12/2013, 11:37 a.m.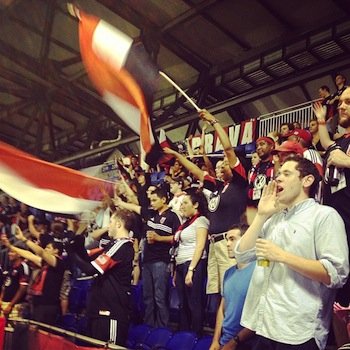 DC Health Link and D.C. United on Thursday announced a partnership to promote quality, affordable health insurance through the District's new health insurance marketplace.
The partnership will focus attention on uninsured and under-insured adults who are younger than 35. Nearly half of the District's uninsured population is under age 35; two-thirds are men; and 58 percent are African-American and 11 percent are Hispanic.
According to published marketing data, supporters and fans of D.C. United overlap greatly with key demographics. For example, nearly two-thirds (63 percent) of D.C. United fans are between the ages of 18 and 44, 26 percent are Hispanic and 22 percent are African American, making this an important avenue to reach uninsured/under-insured populations.
"This partnership will help us inform a key group of District residents that can be hard to reach about new opportunities to obtain health insurance," said Diane C. Lewis, MPA, chair of the DC Health Benefit Exchange Authority Executive Board. "Many young people will have access to financial help through DC Health Link that will finally bring health insurance within their reach."
Under the agreement, DC Health Link will engage in a number of activities and promotions in conjunction with D.C. United in October, including:
Serving as the premium sponsor of the D.C. United v. Chicago Fire game on Oct. 4 with on-field messages and announcements;
A strong DC Health Link presence at pre-game tailgating parties at games on Oct. 4, 12 and 27; and
Co-branded messaging: DC Health Link ads featuring D.C. United players — will be used in promotional materials.
"Our fans are important to us on every level," said Michael Williamson, chief operating officer of D.C. United. "That includes their health and well-being, so helping provide information about health care options for them and their families makes total sense to us."
District residents and small business owners will be able to begin shopping for health insurance through DC Health Link on Oct. 1. People who enroll before Dec. 15 will have coverage effective Jan. 1. Open enrollment will continue through March 31.
For more information, visit DCHealthLink.com.