Rep. John Lewis to Preach Sunday at Shiloh Baptist Church 150th Anniversary
9/13/2013, 3:51 p.m.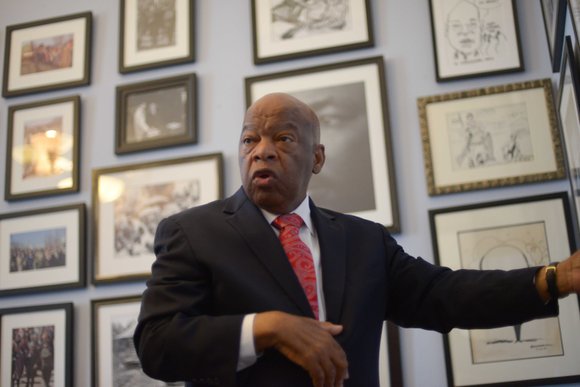 Shiloh Baptist Church announced Friday that Rep. John Lewis will serve as the Sesquicentennial Preacher to deliver the 150th Anniversary sermon on Sunday, Sept. 22, 2013 at the 10:55 a.m. service.
Born the son of sharecroppers outside of Troy, Alabama, Congressman Lewis grew up on his family's farm in Pike County. When he was a young boy he was inspired by the activism surrounding the Montgomery Bus Boycott and the words of the Rev. Martin Luther King Jr.
As a student at Fisk University, John Lewis organized sit-in demonstrations at segregated lunch counters in Nashville, Tennessee. On March 17, 1965, he was severely beaten by angry mobs and arrested by police in Selma, Alabama for challenging the injustice of Jim Crow segregation in the South. Lewis was leading a nonviolent march across the Edmund Pettus Bridge on a day which later became known as "Bloody Sunday." At the age of 23, he was one of the architects of the March on Washington and the youngest keynote speaker at the historic gathering. Recently honored on the occasion of the 50th Anniversary of the March, Congressman Lewis is the last surviving speaker from the 1963 March.
"From his days as a civil rights activist to his current position as a Congressman from Georgia, John Lewis is the unwavering voice of conscious and conviction to the nation. We thank God for his powerful witness and unselfish sacrifice for freedom and justice," says the Rev. Dr. Wallace Charles Smith, Shiloh's Senior Minister.