HOPE Class of 2013 Looks to the Future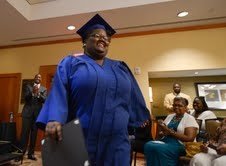 Since early July, much of Donnice Tyler's life has revolved around getting to class each day, where she was put to the test in learning to use a computer, completing assignments and doing homework.
But despite the accompanying worries and frustrations, Tyler, 50, decided early not to be deterred from her studies in the Hospitality Outreach Pathways to Employment (HOPE) program at the University of the District of Columbia Community College.
"I just wanted to be better," Tyler said. "When I first started this program, it was out of fear ... I didn't do this for anybody else. I wanted be successful and graduate for the first time in my life, from anything. Most of all, I did it for the lady in the mirror."
Today, Tyler is one of 20 graduates of the venerable vocational program, which began two years ago at the college in partnership with Goodwill of Greater Washington and Progressive Partners in Northwest.
The Sept. 12 graduation ceremony before a roomful of admiring family and friends at the Embassy Suites Hotel in downtown Washington was the culmination of a 10-week program funded by the Office of the State Superintendent of Education.
The program's goal is to prepare participating students, most of whom are from low-income households, for employment opportunities in the hospitality sector.
"This is the sixth graduating class, and what makes our program different is that we have industry professionals teaching the class like [Courtyard Marriott Capitol Hill/Navy Yard manager] Thomas Penny, [lead HOPE instructor] Ellwood Reid and myself, as opposed to people who've just read books," said Ibrahim Mumin, president of the District-based community economic development and public relations firm of Mumin & Associates.
With more thousands of new jobs having been added to the District's workforce since Mayor Vincent C. Gray's "One City One Hire" program that was launched in 2011, projections call for 30,000 more jobs to be added in the next few years, in accordance with the mayor's vision for economic development.
"Our program will help add to the number of District residents who will be hired," Ibrahim said. "We strive to get our graduates placed."
He cited the success of 2013 graduate Marco Traverso, who at 56, expands his career in the hospitality sector as a banquet captain at the Washington Convention Center.
"We do about 95 percent placement of our students, and for any of them who wants to work, we will work with them until they get a job," Ibrahim said.
Emily Durso, interim state education superintendent and one of several local officials on hand for the two-hour event, said the HOPE project coincides with the city's plan to launch nine vocational academies within the public schools system by the end of 2014.
Durso, who vacates her post on Sept. 30, recalled that during a meeting two years ago with a D.C. Council member, questions arose over the glaring lack of jobs in the city that are held by residents.
"And I said it's because we're not helping them get the help they need," said Durso. "So, when [the Council member] asked what would be needed and I responded, the hospitality program was created."
Overall, the program is an intensive, detailed curriculum that requires students to go through a screening process including drug and academic testing and background checks.
Most of the students, many of whom are older adults, have been through various struggles and are determined to be successful.
"It's a good program that's helped me to get the firm footing into the hospitality [field] that I've always wanted," Traverso said. "It's been difficult taking care of family and going to school. But I'm already seeing the sacrifices paying off."