COMMENTARY: Mayweather Is Still Money — For Now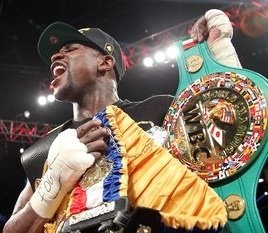 Once again, the king of boxing was victorious. Catch him while you still can, though, because he surely can't do this much longer.
On Saturday night at the MGM Grand Garden Arena in Las Vegas, Floyd Mayweather Jr. dominated one of the best fighters around — an opponent who happened to be 13 years his junior. Over his illustrious 17-year professional career, he has faced younger boxers time and time again and has never exited the ring with a less than a win. But like every other great champion, he can't beat Father Time.
At most, Mayweather has two more years of boxing remaining, though some may contend otherwise after his impressive performance against Saul "Canelo" Alvarez, in which Mayweather easily won a majority decision.
But I'm betting that Mayweather, now 36, will be done before he reaches his 39th birthday.
Mayweather has an agreement with Showtime which includes four more bouts. When he reaches the end of those four fights, we will likely reach the end of Mayweather's career.
His fight against Alvarez came only four months after his last fight. Even though it went well this time, he won't be able to fight again on such an accelerated timetable. Fortunately for him, he likely won't have to.
He'll have two fights in 2014, one of which will be branded "Cinco de Mayweather" and will take place on the first weekend of May. He'll also have two bouts in 2015.
Finding worthy opponents for those fights, though, may prove to be more difficult for Mayweather than the fights themselves.
One possibility is Danny Garcia, who fought on the Mayweather-Canelo undercard, successfully defending his light welterweight championship belt for the fourth straight time with a unanimous decision over Lucas Matthysse. Garcia has beaten a litany of high-quality fighters — including Amir Khan and Zab Judah — in the 140-pound division that Mayweather once dominated.
Following his win over Matthysse, the unbeaten 25-year-old didn't lobby for a fight against Mayweather, even though it could potentially net him millions.
At this point, Garcia may be Mayweather's only viable opponent. Everyone else on the current boxing landscape would be a bit of a stretch.
Alvarez came into the fight undefeated at 42-0-1 and was only a 2-to-1 underdog, one of the shortest betting lines for a Mayweather fight in the past few years. Didn't matter — Mayweather cruised to arguably his most dominant win in recent memory.
Quick aside: As impressive as Mayweather's performance was, there was still some highly questionable scoring by the ringside judges, particularly C.J. Ross, who declared the fight a draw — a decision which could only be described as shameful. Obviously she didn't watch the same fight that I did (I had Canelo winning only two rounds).
So who will Mayweather fight next? We'll have to wait and see. He can't fight forever though, and his retirement is imminent. Regardless of the opponents, enjoy his next four fights because that's all he has left in the tank.