Obama to Keynote Annual CBCF Awards Dinner
9/16/2013, 11:20 a.m.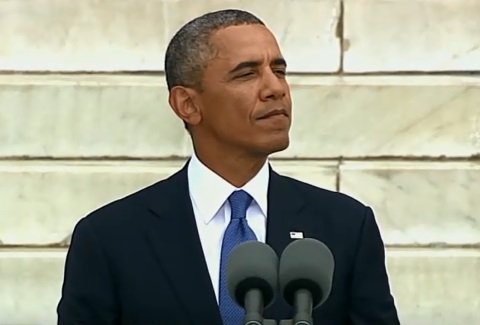 President Obama will be the keynote speaker during the Congressional Black Caucus Foundation's (CBCF) 43rd Annual Legislative Conference Phoenix Awards Dinner in D.C.
The dinner, scheduled for 6 p.m. on Sept. 21 at the Walter E. Washington Convention Center, is the signature event of a four-day conference focusing on public policy impacting black communities in America and abroad.
"It is an honor and privilege to have alumni CBC member President Barack Obama address this year's Phoenix Awards Dinner," said Pennsylvania Rep. Chaka Fattah, the chair of the CBCF board. "[His] presence, together with our recognition of President Clinton for his global advocacy work, will make this a historic evening for CBCF."
Coming on the heels of the 50th anniversary of the March on Washington, the ceremony will pay tribute to the "Spirit of 1963" and the advances that the march led to in American life, from voting rights and school desegregation to Obama's historic election to the presidency in 2008.
"President Obama's decision to keynote the dinner underscores the importance of our mission to expand opportunities in health, education, and economic recovery for black people around the world," said A. Shuanise Washington, CBCF president and chief executive officer. "This year is especially important given that we are celebrating the historic advances our country has made since the 1963 March on Washington."
The dinner will honor the achievements of former President Bill Clinton, Maryland Rep. Elijah E. Cummings and Elaine Jones, former president and director-counsel of the NAACP Legal Defense and Educational Fund. The honorees will receive the Phoenix Award for their contribution to African-American political awareness and empowerment, as well as to the advancement of minorities in the electoral process.
MSNBC television host Tamron Hall and actor Wendell Pierce, who is best known for his work in HBO dramas, will serve as the emcees. The awards gala will also feature jazz chanteuse Stephanie Jordan.
"In keeping with the spirit of the march, this year's theme — 'It Starts With You' — reflects the Foundation's goal of inspiring individuals to become agents of change in their communities," Washington said.