Play Honors '63 Civil Rights Firebomb Victims
Margaret Summers | 9/16/2013, 8:20 p.m.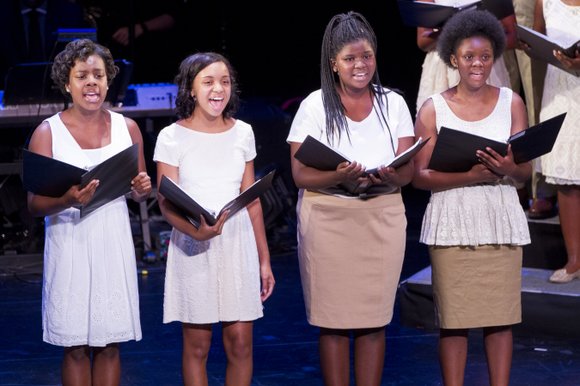 "What bothers me most is that their names have been virtually erased." The quote by nationally-known activist Angela Davis, intoned by a choir of students from the Duke Ellington School of the Arts, opened the dramatic reading of the play, "Four Little Girls: Birmingham 1963" at the Kennedy Center for the Performing Arts' Family Theater.
The free production was sponsored by the Kennedy Center for the Performing Arts, Howard University, and the New York-based Project 1 Voice, in cooperation with the Duke Ellington School of the Arts, and the District-based African Continuum Theatre Company. It was presented for one night only on Sunday, Sept. 15, the 50th anniversary of the firebombing of Birmingham, Ala., 16th Street Baptist Church by Ku Klux Klansmen. The dynamite blast destroyed most of the church, and killed four girls in its basement: Addie Mae Collins, Carole Robertson, and Cynthia Wesley, all 14, and Denise McNair, 11.
"Performances of this play are taking place today around the country," said Erich McMillan-McCall, executive director of the nonprofit, New York-based Project 1 Voice, as he introduced the production. Project 1 Voice promotes African-American theater and playwrights.
"Four Little Girls" was written by Christina Ham and directed by actress Phylicia Rashad, who starred as "Mrs. Huxtable" in the television comedy, "The Cosby Show." It told the stories of the girls through original music, gospel songs, images of civil rights icons and incidents projected on a video screen, and dialogue between the girls and their school friends. The four and their friends were played by students from the Duke Ellington School of the Arts. Through the play, the audience was given a sense of what the girls' lives were like as they went about being young in a racially-torn city.
"We hate hearing the awful 'D' word," said the "Addie Mae" character, played by Mariama Sonko. "It's 'don't.' Don't go outside. Don't get mixed up in demonstrations."
"Do you know what Birmingham used to be called? 'Magic City,'" said "Denise," played by Saran Bakari. "It was known as an industrial giant. Now it's just known as 'Bombingham.'"
Despite the demonstrations in Birmingham, where teens were fire hosed, mauled by police dogs and arrested, the girls mostly enjoyed such normal activities as planning to see the dolphin film "Flipper," drinking milkshakes, meetings for Girl Scouts, Jack and Jill and the library club, and hurrying through homework to watch the television game show "What's My Line?"
In the play, Denise discussed her dreams of becoming a doctor. Addie Mae wanted to become "a female Jackie Robinson," and a renowned artist. "I would only need one good painting to sell and live off of," she said. "I will teach math at the University of Alabama, and publish my first novel," said "Cynthia," played by Victoria Jones. "Carole," played by Naila Kenya, wanted to teach history someday, and loved her tap dance lessons at Smithfield Recreation Center. "I'm getting good at this!" she exclaimed.
The play's characters said that on the morning of the firebombing, someone telephoned the church's office, said "Three minutes" and hung up. Sticks of dynamite placed in a box under steps near the church basement exploded, killing the girls and injuring many others. Ironically, that Sunday's sermon was entitled "The Love That Forgives."
A panel discussion followed the play, featuring journalist Jerry Mitchell, whose reporting helped identify and try the men implicated in the attack; Carolyn McKinstry, a church firebombing survivor; Dr. Greg Carr, a Howard University professor of African-American studies; and Gavette Richardson of Birmingham who is a first year law student at Howard University.
"Attacking children is where we draw the line," said Carr. "Dr. Martin Luther King, Jr. eulogized three of the four girls. He said although their lives were brief, they had meaning. They were the embodiment of our humanity. Like the killing of Trayvon Martin, when a child is touched, it crosses a line. It awakens Americans like nothing else does."
Several audience members said the play is a valuable civil rights teaching tool. "It made me want to get up and do something, not just talk about change," said Howard University senior Valerie Previl, 21, of Long Island, N.Y. "Our children need to know about this history," said Pamela Murray, 56, of Northwest. "I will take information about this play back to my peers, and become more proactive [in social change]," said Charles Crutchfield, 37, of Clinton, Md.