Questions Swirl after Mass Shooting at Washington Navy Yard
13 Dead, 10 Injured in Early Morning Rampage
Stacy M. Brown | 9/17/2013, 11:59 a.m. | Updated on 9/18/2013, 3 p.m.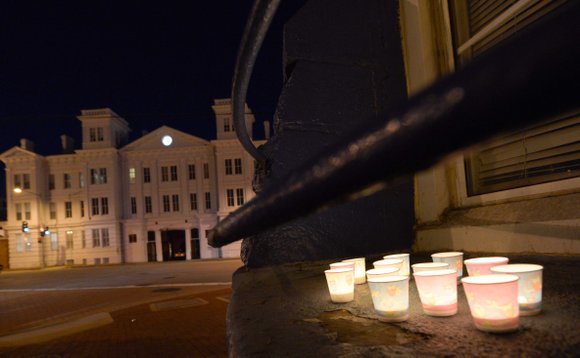 Outside the base, stunned employees cried, held each other and stood and walked around looking lost. Chaos and fear gripped the region. At the end of the day Monday, a visibly tired and somber mayor spoke at a 6 p.m. news conference.
"I'm really saddened by this day … This is a long day, a tragic day," Gray said. "We want to extend from the city our heartfelt condolences to the families of the victims. We have no known motive and no information that suggests terrorism is the case at this point. We will continue through the night with this investigation and do the same obviously in the days and weeks ahead."
President Barack Obama praised the victims and first responders in remarks before a speech to mark the fifth anniversary of the financial meltdown.
"We're confronting yet another mass shooting and today it happened on a military installation in our nation's capital. It's a shooting that targeted our military and civilian personnel. These are men and women who were going to work doing their jobs and protecting all of us. They're patriots. They know the dangers of serving abroad, but today they faced the unimaginable violence that they wouldn't have expected here at home."
Obama ordered all flags flown at half-mast until the end of this week.
D.C. Delegate Eleanor Holmes Norton praised law enforcement for their quick response.
"We've not had a day like this since 9/11 and with good reason. Our hearts and prayers are with those who've died, those who're injured," she said. "I will lead a moment of silence, for yet another heart break, for families in this city. This attack on a federal facility we take personally. It is an attack against us, our city, [and] our country."
Norton said she planned to ask Obama to convene a special panel to study security on military bases nationwide.
"We don't want them walled off, we want them as part of the community, but the people who work inside need to be safe," she said.
Several vigils are scheduled for the victims of Alexis' shooting spree and their families. They are: Michael Arnold, 59, Kathy Gaarde, 62, John Roger Johnson, 73, Arthur Daniels, 51, Richard Michael Ridgell, 52, Martin Bodrog, 54, Vishnu Shalchendia Pandit, 61, Kenneth Bernard Proctor, 46, and Mary Francis Knight, 51.
The Navy Yard houses the Chief of Naval Operations and is the headquarters of a number of naval commands. The Naval Sea Systems, according to the Navy website, buys, builds, engineers and maintains the Navy's ships, submarines and combat systems. About 60,000 employees work on-base. Counseling is being offered for all employees of the Navy Yard.