CBC Not Yet Sold on Syria
D.C. Residents Also Against Military Action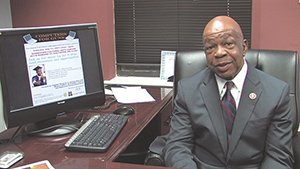 The Congressional Black Caucus, staunch supporters if not rubberstamps for many of President Barack Obama's policies, has expressed skepticism over the commander in chief's desire to take military action against Syria.
Although many members have refrained from publicly criticizing Obama, only two of the 43 voting Congressional Black Caucus (CBC) members have reportedly said they would back the president on strikes in Syria.
Some have even broken ranks, criticizing the president.
"The tragedy of war is that even one innocent life is far too many to lose, and as we continue to witness the horror occurring in Syria there is no doubt many want the international community to intervene," said CBC Chair Marcia Fudge (D-Ohio).
"Since 2011, more than 100,000 people have died in Syria's civil conflict while more than two million Syrians have fled to neighboring countries as refugees," said Fudge, 60.
"President Obama has asked members of Congress to authorize a military strike on Syria for violating international law in the use of chemical weapons by the government on its people; a request that requires each of us to thoroughly examine the evidence and exhaustively consider the consequences of military action," she said.
Obama needs support from lawmakers if he is to win approval from Congress on his plans to launch military action against the Western Asian nation. But few are giving him the outright support he desires, specifically CBC members.
"I want to support the president. I believe in him," said Rep. Elijah Cummings (D-Md.).
However, Obama must prove that the ongoing strife in Syria threatens national security in America, Cumming said, noting that those who normally support the president are leery of any military action going forward.
"If we go in and we find ourselves mired in a civil war, what does that do? I've gotten 95 percent of the calls coming into my office saying no. That's why the president has got to address my constituents. And, by the way, I have a constituency that voted 80 percent for the president, so it's not like they're not his friends," said Cummings, 62.
While Rep. Charles Rangel (D-N.Y.) publicly declared he's against a Syria strike, another CBC member, Barbara Lee (D- Calif.), released to her constituents a letter that she sent to the president which warned Obama against being drawn into another costly war. Several CBC members including Rep. John Lewis (D-Ga.) also signed Lee's letter.
"We must learn the lessons of the past," said Lee, 67. "Lessons [learned] from Iraq, Afghanistan, Libya, and others. We must recognize what happens in Syria does not stay in Syria, the implications for the region are dire, but I am calling for debate."
Local residents also weighed in against military action in Syria.
"There are people here in this country who are suffering and I do sympathize with those in Syria and other places around the world who are suffering at the hands of their government or by other means," said Charlotte Stokes, a buyer for a major department store, who lives in Southeast.