DANIELS: Ted Cruz Loves Arch-Racist Jesse Helms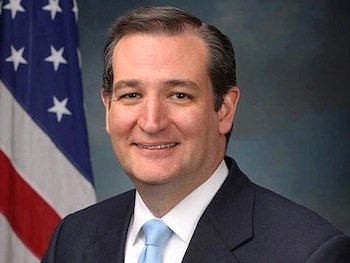 In office just nine months, Ted Cruz, the junior Republican Senator from Texas, has already established himself as that body's most divisive force since the witch-hunting, 1950s demagogue, Joe McCarthy.
A darling of the most extreme factions of the conservative movement, Cruz exemplifies what was obvious about the GOP's fortunes since the Tea Party emerged on its right flank two months after President Obama took office in 2009: That it would have to destroy the GOP's establishment – that is, those Republican officeholders who, though rock-ribbed conservatives, actually believed in the old American win-some-lose-some tradition of political accommodation and pragmatism.
And last week, speaking at an event meant to honor the late Jesse Helms, the longtime segregationist senator from North Carolina, Cruz, Texas' first Hispanic senator, revealed again for all to see how unbreakable is the connection between conservatism and White racism.
Cruz, who was born in 1970, first briefly spun a tale of how he had idolized Helms, who served in the Senate from 1972 to 2001, since he was 10 – when he had sent Helms a $10 campaign contribution "'cause they were beating up on him, they were coming after him hard and I thought it wasn't right …"
Then, after a moment, Cruz added, "The willingness [of Helms] to say all those crazy things is a rare, rare characteristic in this town, and you know what? It's every bit as true now as it was then. We need a hundred more like Jesse Helms in the U.S. Senate."
The bulk of Cruz's remarks laid out his analysis of Helms' positions on foreign affairs (an analysis that in fact was laughably wrong).
But Cruz's gushing, thankfully, did remind us that for nearly two centuries, the United States Senate was comprised of a substantial number of senators "like Jesse Helms." That bloc, along with their confederates in the House of Representatives, was responsible for establishing and maintaining Negro slavery and its successor, racial apartheid, in the South into the latter third of the 20th century.
By the time Helms reached the Senate, the legislative victories of the Civil Rights Movement – which Helms staunchly opposed and continued to denigrate throughout his political life – had pared those politicians' numbers sharply.
But Jesse Helms, provincial and mean-spirited, continued to fight on. In 1983, he was the only Senator to vote against approving Martin Luther King, Jr. Day as a federal holiday. In 1990, he waged what many called the most racist political campaign since the civil rights years to fend off a challenge from Harvey Gantt, an African American Democrat and former mayor of Charlotte. In 1993, he tried to taunt Illinois' Carol Moseley-Braun, newly-elected as the nation's first Black female senator, by singing "Dixie" as they rode the Senate elevator one day in order, as he said, to try to make her cry.
Moseley-Braun did not cry, but the act revealed something fundamental about Helms' character that went hand-in-hand with a vicious bigotry that also targeted gays and lesbians, women and other people of color, including Hispanic Americans. A few weeks earlier, Moseley-Braun had led a successful charge against Helms' trying to guide a renewal of a federal patent on the Confederate flag for the United Daughters of the Confederacy. She won the substantive political battle; his response was a juvenile gesture.