D.C. Political Roundup: Weaver Runs for Ward 1 Seat
9/18/2013, 3 p.m.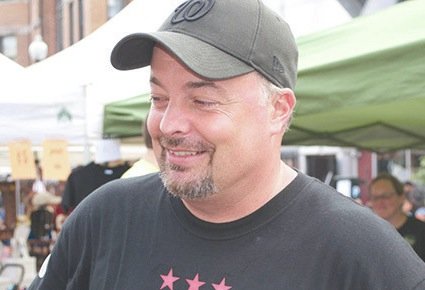 Former Ward 1 Advisory Neighborhood Commissioner Bryan Weaver is running as a candidate for the Democratic Party nomination for the Ward 1 D.C. Council member seat, once again. Weaver, 43, is challenging D.C. Council member Jim Graham for the second time. This time he thinks he can take out the veteran lawmaker.
"The issues that affect Ward 1 residents are not being addressed," he said. "There is corruption on the D.C. Council while issues such as opportunities for young people and building more affordable housing are not being paid attention to. Corruption is now on the front page when it comes to Ward 1 and there needs to be a new generation of people to lead the ward."
Weaver, who lives in the Adams Morgan neighborhood in Northwest, lost to Graham in the Democratic Party primary in 2010, receiving 21 percent of the vote to Graham's 57 percent. In 2011, Weaver came in fourth in the field of candidates running for Kwame Brown's at-large D.C. Council seat. In 2012, he led an unsuccessful yet energetic effort to ban corporate contributions to District elected officials through a ballot initiative.
Weaver served as a commissioner for single-member district 1C03 from 2003-2009 that included two terms as chairman of commission 1C. He said that his experience in politics has taught him to keep fighting for what is right.
"Some people run, lose and then just fade away but I will not do that," he said. "We need job training for our kids. I am getting back to the things I am talking about. When you talk to the crews in Ward 1, they ask, to the surprise of many people, about career information and I want to make that a reality for them to have good jobs." 
Weaver is the founder and president of a non-profit, Hoops Sagrado in Northwest. He is a political science graduate of Howard University in Northwest and has worked for the Service Employees International Union as a field representative and organizer. He's also served as an aide to the late Sen. Paul Wellstone of Minnesota and the Rev. Jesse Jackson.
Weaver said that he's ready to win in 2014.
"The people of Ward 1 see things differently now than they did in 2010," he said. "They see the corruption and they want change. Plus, I have the money and resources now that I did not have in 2010 and the people know that they do have a choice for the city council." 
Moten Pens Autobiography, Blasts Gray
Ronald Moten, a former Ward 7 D.C. Council candidate and co-founder of Peacoholics, is promoting his autobiography and political commentary book, "Drinking Muddy Water: The Streets, The Scandals & The Party of Lincoln", published by Sudden Change Media of Northwest. Moten, 43, said that he's not planning on running for another political office in the District but would like to play a role in cleaning up the city's political landscape.
In the book, D.C. Mayor Vincent Gray is a frequent target of Moten's gripes about the District's political leadership. He spends a great deal of time in the book characterizing Gray as untrustworthy and ethically challenged.