DOES Spotlights Summer and Internship Programs
Margaret Summers | 9/18/2013, 3 p.m.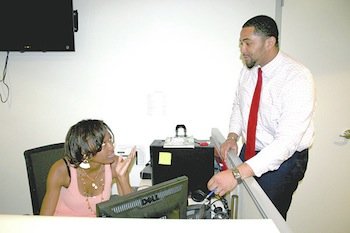 D. C. public and charter schools are back in session, but the Department of Employment Services' Office of Youth Programs is busy reviewing its annual Summer Youth Employment Program (SYEP), established in 1979, and readying its One City High School Internship Program, now in its third year.
Several thousand young people ages 14 to 21, a majority from Wards 7 and 8, have participated in SYEP, said Gerren Price, 29, associate director of the Office of Youth Programs. "We had 14,929, [an increase from] last year's 14,352. Our program retention rate was 82 percent. But we want to find out why 18 percent of the participants didn't remain in the program. Our retention survey found that some left to take other jobs, or because they had difficulty [managing] work and summer school."
Price said SYEP is still a work in progress, as more District and federal government agencies, nonprofits, community-based organizations and corporations become host employers. Past employers have included the U.S. Department of Commerce, the National Park Service, Java Juice, and CVS Pharmacy.
"This year we had 490 host employers," said Price, who became the Office of Youth Programs' associate director in 2010. "We've had young people in SYEP partner with the White House Scholars Program."

"I appreciate Mayor Vincent Gray's efforts to connect District government agencies [as host employers]," said Price. "We want to ensure that we're all doing the best we can for our young people."
Program participants' varied employment experiences have ranged from customer service to fashion design and modeling, and working as a store cashier, Price said.
He acknowledged SYEP's past problems regarding employees not having enough work to do. "We've tried to eliminate 'make work,'" said Price. "We want to provide our young participants with a quality work experience. We're not just concerned with increasing our numbers [of participants in the program]."
Host employer supervisors are extensively trained on working with SYEP employees, said Price. "We monitor the sites. We visit each site three times, and conduct two surprise visits." Price said host employers who are not making the best use of SYEP employees can no longer participate.
SYEP employees must be prepared to work, said Price. "Don't come into a job with a bad attitude. Take the initiative. If you finish a task and you don't have anything else to do, let your supervisor know. Ask for another assignment."
SYEP partners with the District of Columbia Public Schools to discourage truancy. "We held a 'truancy summit' to teach students the difference between excused and unexcused absences," said Price. "We wanted the students to understand the [employment] implications of missing school."
As SYEP 2013 concluded, 200 participants selected by supervisors were honored in a ceremony at Eastern High School in Northeast. "I'm really proud of our young people," said Price. "I heard a lot from our employment partners that they were very good. This program provides mentoring and support for its participants from professionals in various fields. That's something you can't put a price tag on." Price said survey results and recommendations from focus groups among SYEP participants, parents and supervisors, may be incorporated in next year's program.