DOES Spotlights Summer and Internship Programs
Margaret Summers | 9/18/2013, 3 p.m.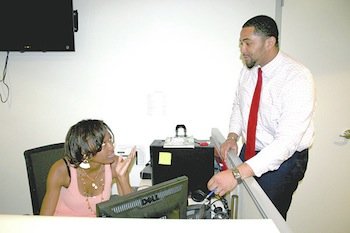 Many employees, like "Alex Moore," 17, of Northwest, whose parents asked that her real name not be used, loved their SYEP jobs. "I was a camp counselor in a District recreation center," said Alex, who has participated in SYEP three times. "It's a really good program. I wouldn't change anything about it."
Meanwhile, the Office of Youth Programs accepted applications for its One City High School Internship Program. Eleventh and 12th graders work for participating employers from November 4, 2013 to August 8, 2014, earning $8.20 an hour. Participants must be District residents, attend District public or charter schools (District students attending special education private schools are also eligible), maintain a cumulative 2.5 grade point average or higher, and have a half-day and/or abbreviated school schedule. Participants cannot be in SYEP and the One City High School Internship Program at the same time. The applications deadline was the weekend of September 13. "Last year, we selected 300 applicants," said Price.
Panelists in a recent oversight hearing on SYEP by the D.C. Council's Committee on Workforce Affairs, chaired by D.C. Council member Marion Barry (D-Ward 8), praised the program, but recommended its expansion from six weeks to eight or 10 weeks, to provide additional work weeks. Barry said the budget for the program is too low.
"There's always room for improvement," commented Barry, 77, who started the program as the District's mayor. "Improvement is the largest room in the house."