THE RELIGION CORNER: National Congress of Black Women Holds Annual Fete
9/18/2013, 3 p.m.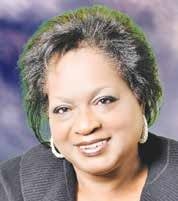 On Sunday, Sept. 22, the National Congress of Black Women, Inc., will host their 29th Annual Fundraiser at the Capital Hilton Hotel in Northwest. Dr. E. Faye Williams, national chair since the death of Dr. C. Delores Tucker in 2005, invites everyone to join members of the National Congress of Black Women (NCBW) for this annual awards brunch. Held each year at the end of the Congressional Black Caucus Legislative Weekend, NCBW hosts its awards brunch to raise money to fund the many community service projects and to provide assistance to women and their families. NCBW has more than 100 chapters throughout the country. This year's event is set to be another great networking extravaganza you don't want to miss!
Williams and NCBW members will recognize the 2013 Audacity of Truth Award recipients: Bettye LaVette, the Grammy nominated blues singer who performed a soul-stirring rendition of "A Change is Gonna Come" at the 2009 Inauguration of President Barack Obama with Bon Jovi; Cheryl Pearson-McNeil, senior vice-president of public affairs and government relations at The Nielsen Company — one of the nation's largest market research and media ratings organizations. Based in Chicago, Pearson-McNeil leads a busy life running in and out of meetings, long hours of travel, and analyzing data on TV and phone usage; Dr. Lezli Baskerville, Esq. president, National Association for Equal Opportunity in Higher Education.
Others include Ellie Hylton, who recently graduated with the highest GPA in her Harvard class — a first for a black student. She just so happens to be the niece of Soledad O'Brien; JC Hayward stands out as a gem in the world of broadcast journalism. As the D.C. market's first female anchor, she has celebrated 40 years as an anchor at WUSA9 and was recently inducted into the National Association of Black Journalists Hall of Fame and Tamika Mallory, former national executive director of National Action Network (NAN), founded by minister and social justice leader, The Rev. Al Sharpton. She's been featured in publications such as Ebony and Jet magazines.
The Good Brother Award goes to Darnell Lee, founder and CEO of W&T Travel Services in Prince George's County, Md. It took only a few years for him to grow his business, today he employs more than 200 staffers, and continues to be a man of great faith. He shows his appreciation to God by enhancing the lives of children through education. He's building a school in Zambia, Africa; and has been featured in Black Enterprise magazine. 
The Posthumous Award goes to civil rights pioneer Vivian Malone Jones; and Mohamed Elhajjam, president of the Moroccan American Network. Both will be honored with the Cultural Unity Award.
NCBW celebrates men and women of excellence each year during the Congressional Black Caucus Legislative Weekend. They are selected from the worlds of academia, entertainment, civil rights, business, education, politics, medicine and journalism and hail from across the nation. Guests include members of Congress, delegates, NCBW members, state and local legislators, and many other notables. Past speakers have included First lady Michelle Obama and Cicely Tyson. Tickets for the event begin at $100 and are available for purchase at www.nationalcongressbw.org
Proverbs 31: Verse 16 – "She considereth a field, and buyeth it: with the fruit of her hands she planteth a vineyard."
Visit the headquarters of the National Congress of Black Women located in Southwest Washington, D.C. Williams can boast that NCBW members purchased the home office now owned by the membership – it's free and clear! It's located at 1250 Fourth Street in Southwest Washington, D.C. NCBW is also the group that's responsible for making the Sojourner Truth memorial in the U.S. Capitol a reality.
What a testament to the legacy of Rep Shirley Chisholm (D-N.Y.), Tucker and other black women. Plan to join this prestigious group, enjoy brunch and participate in a wonderful afternoon. Decide to make this event an annual tradition for you and your family.
Lyndia Grant is a columnist who hosts a radio talk show on WYCB AM 1340, a Radio-One station. Tune in Fridays at 6 p.m. Call Lyndia at 202-518-3192 or send emails to lyndiagrant@gmail.com.