Iyanla Vanzant Speaks at CBC Conference, Urges Crowd to 'Know Yourself'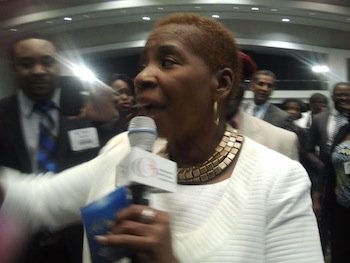 Iyanla Vanzant likes to think of herself as an ordinary person. She grapples with work and family issues, loves two-for-one sales — even labors over the best brand of detergent to purchase.
But at the end of the day, the feisty life coach and host of OWN television show "Iyanla Fix My Life" is clear about who she is, her purpose and what matters.
"I'm a teacher, not a preacher," she told a crowd of more than 1,000 people Thursday during a networking luncheon at the Washington Convention Center in downtown D.C. "You have to be clear about your purpose, protocol and plans. You have to have peace in your life [because that] will help create boundaries and bring you to a peaceful state of mind."
The 60-year-old mother and twice-divorced spiritual adviser was the featured speaker at the two-hour session, which was part of the 43rd Annual Legislative Conference of the Congressional Black Caucus that began Wednesday. The conference culminates Saturday with President Barack Obama addressing the Phoenix Awards Dinner.
Vanzant, also known for her numerous books and appearances on "The Oprah Winfrey Show," is the founder of the District-area-based Inner Visions for Spiritual Development. The organization offers workshops and lectures that inspire families and individuals across the country to embrace positive self-images and lifestyles.
"I use herbs to cleanse my body of toxins and prayer to clear my mind," said Vanzant, who was impeccably dressed in an off-white suit accented with gold jewelry. "Don't say yes to things you're not clear about and which give no honor to God. Be authentic. Be about integrity in what you think, feel and do."
According to Vanzant — who shared the breakdown of a 40-year relationship that left her "face down in the mud" and the devastation of her daughter's death a few years ago — people everywhere suffer in silence because they aren't sure who they are and what they want. She advised them to know their value and to determine for themselves what they see as possibilities for having the best lease on life.
"You can only have what you can see," she said, encouraging the audience to aspire to their best. "Your eyes will adjust to the level of deficiency that's present," Vanzant warned, adding, "don't adjust to limitations and whining."
Arianna Cotman, an aspiring motivational speaker from Bowie, Md., attended the luncheon with two of her college buddies. She said she's admired Vanzant's brand of wisdom and humor since first seeing her years ago on "The Oprah Winfrey Show."
"She's wonderful in the way she relates to people. She's funny, straight forward and never holds back the truth," said Cotman, 25, who works as a public relations assistant. "[Vanzant's] choice of words and motherly instincts, along with her mannerism, have made her a leading authority when it comes to building healthy relationships. I adore her for the inspiration she brings to so many women, regardless of age or ethnicity."
Vanzant's mannerism was evident at the session, where she offered wisdom for telling the difference between love and control.
"I [used to think] love was all about control," Vanzant said. "But control is about fear. Love is not about fear."
She said people often make the mistake of falling in love with those who don't show who they really are, only to become "mad and confused" once the real person emerges.
"Be who you are without apology or defense," she said. "Don't get caught up in your weight, age or credit score. Just be you, and if you have the support of the Holy Creator, you can move mountains."