D.C. Native Puts Soul in Symphony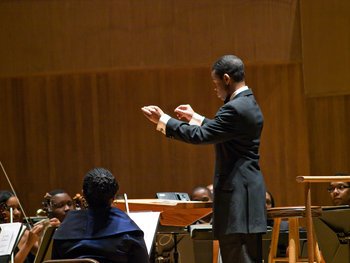 Many consider Northwest Washington, D.C., native, Darin Atwater, a trailblazer in the orchestral world of fusing traditional classical music with gospel, jazz, R&B and a little bit of hip-hop.
The accomplished musician reigns as maestro over his own orchestra, the Soulful Symphony, a 75-member ensemble with a majority of African-American and Latino vocalists.
"Sure, my friends teased me at first about being a conductor and about the instruments and music, but my secret was to play tunes they knew like, 'Rocky,' or something from Stevie Wonder," said Atwater, 43.
It's no surprise that Atwater decided to emulate the late Barry White, an accomplished singer, producer and orchestra leader. Atwater's love of music started at the Third Street Church of God in Northwest, where both of his parents were prominent in the choir.
Although his father, John, worked as an executive for IBM, and his mother, Marian, earned a living as a teacher, Atwater learned music by watching other musicians shine in their craft and by honing his own musical skills at the century-old church on New Jersey Avenue.
He began dabbling on the black and whites at age four and penned his first arrangement at 11, when he wrote a rendition of, "Blessed Assurance," a gospel standard.
Later, Atwater attended Morgan State University where he met gospel great Richard Smallwood, who invited Atwater, then 20, to join him on the road to play keyboards for his gospel band.
Atwater, who also has played with legendary gospel singers Shirley Caesar and Yolanda Adams, studied composition at Baltimore's Peabody Conservatory of Music.
In 2000, Atwater started conducting his own orchestra, which developed a hip-hop symphony while also playing classic tunes from Motown, Jazz, and gospel.
Four years after Soulful Symphony's debut, the Baltimore Symphony Orchestra formed an alliance with Atwater in an effort to attract more diverse audiences to the Hippodrome, located in downtown Baltimore.
Since that alliance, Soulful Symphony has routinely played to sold-out audiences of all races, ages and cultures.
"I had a great family home and a great church to really help me and that meant a great deal to me," said Atwater, whose Soulful Symphony stands as the first resident ensemble at the Hippodrome's France-Merrick Performing Arts Center in Baltimore where they have entered into a partnership with Broadway across America, which presents live theatrical events, and the Hippodrome Foundation, whose mission is to increase understanding and appreciation of all aspects of theater.
Atwater's symphony will host to a full season of music at the Hippodrome Theatre beginning at 8 p.m., Saturday, Sept. 21.
"To be a part of this symphony is an exciting and fulfilling dream for me," said saxophonist and singer Tim Green, a Baltimore native, who himself has adopted a deeply personal sound from a broad swath of the Jazz landscape and emerged as a powerful new voice on the symphony scene. "I've been with the symphony since the beginning and I've worked with Darin since high school," said Green, 31. "He's been a mentor of mine for so long, kind of like a big brother."