D.C. Native Puts Soul in Symphony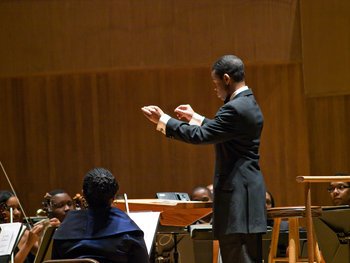 Wayman McCoy III, a marketing and sales executive from Germantown, who also has played with the symphony since its inception, said Atwater is a genius.
"Usually, in an orchestra situation, there are only a few African Americans, and often there are only a few in the audience," said McCoy, 53. "To be on the stage playing this beautiful music, composed and conducted by a black composer is amazing. I really can't describe it."
The new season at the Hippodrome will begin with a rendition of the orchestra's popular, "Say Amen Somebody." Atwater said the concert draws from a deep well of American gospel music and features original orchestrations.
"We perform the most treasured forms of American roots music from Stevie Wonder to Elvis Presley," Atwater said. The composer said audiences will also be treated to excerpts from his Emmy Award winning, "Song in a Strange Land," which he composed in 2005.
"Everything coalesced with that piece. I wanted to find a framework where I could elevate American vernacular music, and of course it all started with the spiritual. And for me, I said, 'Let us start with that and kind of weave together all of the different musical [components] that have stemmed from the spiritual,'" he said.
The piece, "Song in a Strange Land," begins with music that predates the spiritual – the sound of the drums, which Atwater called the heartbeat of all African music and its derivatives.
"First generations of African slaves brought drums and used them to communicate with each other, sometimes causing insurrections on plantations. So slave owners confiscated their instruments," he said.
However, slaves still found ways to express themselves.
"Any time you hear Negro spirituals, you hear them without any instrumentation," said Atwater, who laments the lack of actual instruments being used in popular music concerts and on records today. "There's a real strong vocal component. You don't have as much rhythmic freedom in gospel as you do with Jazz and its cousins. So what I wanted to do was reintroduce the spiritual with that vocal component, along with all these other rhythmic possibilities," he said.
While Atwater plans to bring his symphony home to Washington, D.C., next year, his new season at the Hippodrome includes a "Soulful Holidays," concert on Saturday, Dec. 14. He will also host a, "So Many Stars," concert that will benefit programs at the Hippodrome and will showcase a genre-bending journey through Classical, Jazz, Pop, and Country music – featuring songs from artists such as Bob Dylan, Aretha Franklin and the late composer Leonard Bernstein. The evening will be capped off by the world premiere of Atwater's latest work, "So Many Stars," a concerto performed by the Soulful Symphony.
"This season definitely has something for everyone," Atwater said. "It's a celebration of American music, its symphonic music that draws from the richness of all the traditions realized in American culture."