Mystics' Thibault Named WNBA Coach of the Year
9/21/2013, 7 p.m.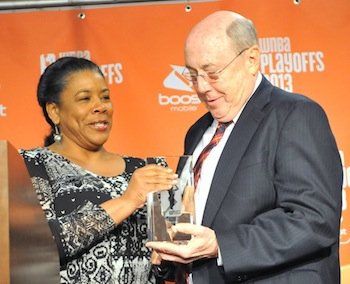 Washington Mystics head coach Mike Thibault, the winningest coach in WNBA history, was named the 2013 WNBA Coach of the Year, the league announced Saturday.
In his first season in Washington, Thibault returned the Mystics to the playoffs for the first time since 2010, guiding the club to a 17-17 record and the third seed in the Eastern Conference. The team was a combined 11-57 in the two years before his arrival, including 5-29 last season.
Thibault, who also won the award in 2006 and 2008, received 12 votes from a national panel of 39 sportswriters and broadcasters, edging the Seattle Storm's Brian Agler and Chicago Sky's Pokey Chatman, who both received 11 votes.
Prior to joining the Mystics, Thibault spent 10 seasons as head coach of the Connecticut Sun, leading that club to eight playoff appearances and two WNBA Finals.
Thibault is the second three-time winner of the award along with Van Chancellor, who earned the honor in the league's first three seasons. Thibault also passed Chancellor earlier this season on the league's all-time wins list.