Redskins Remain Winless, Lose to Lions, 27-20
Gary Williams | 9/22/2013, 6:51 p.m.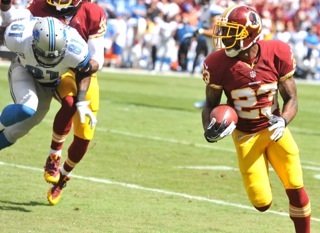 The Washington Redskins made some improvements Sunday against the Detroit Lions at FedEx Field. Quarterback Robert Griffin III ran more like himself, as did running back Alfred Morris.
However, a combination of poor tackling, turnovers, penalties and a controversial judgment call that nullified a touchdown dropped Washington to their third straight defeat, 27-20.
This was the first win for the Lions against Washington in D.C. in franchise history, breaking an 0-21 streak.
Griffin completed 32 of 50 passes for 326 yards, his third straight 300-yard passing game. However, Griffin had three fumbles — one at the end of a 21-yard scramble in Lions territory in the fourth quarter — also threw an interception.
Morris ran 15 times for 73 yards, 30 of those coming on a second-quarter score that tied the game at 14-14.
Washington had six penalties for 45 yards; however, all seemed to come at key moments.
"We had too many mistakes at crucial times," Griffin said. "We have to find ways to make plays. ... We have to clean it up."
The controversy came in the fourth quarter as Griffin fired a 57-yard pass to wide receiver Aldrick Robinson for an apparent touchdown that would have put the Redskins ahead, 24-20, with nine minutes to play.

However, the call was reversed upon replay after officials determined Robinson did not maintain possesion of the ball as he was tackled in the end zone -- ironically, a decision based on the "Calvin Johnson" rule, named for the Lions' superstar wide receiver after a similar play three years ago.
Washington head coach Mike Shanahan told reporters that the 0-3 start simply means his team has to go back to work.
"We'll find out how tough we are now," he said. "We'll come back and we'll toughen ourselves."
When asked what has surprised him so far this year, Shanahan said, "That we're 0-3."
Lions quarterback Matthew Stafford completed 25 of 42 passes for 385 yards and two touchdowns, but threw a first-quarter interception that was returned 17 yards for a touchdown by Redskins CB DeAngelo Hall. Running back Joique Bell, starting for an injured Reggie Bush, ran 20 times for 63 yards and touchdown. Johnson caught seven passes for 115 yards and a score.
Washington will seek its first win on Sept. 29 when they travel to Oakland to take on the Raiders.