COMMENTARY: Redskins Taking a Pass on Defense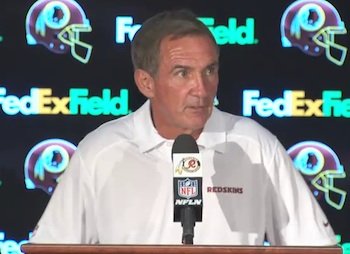 It all started so well.
On a beautiful, sun-drenched afternoon at FedEx Field, the Redskins finally got a jump-start from its defense. On the first play from scrimmage, linebacker London Fletcher sacked Detroit Lions quarterback Matthew Stafford for a loss of seven yards. Soon thereafter, cornerback DeAngelo Hall picked off a Stafford pass and ran it back for a touchdown.
From there, things went downhill. And once the dust settled, the Lions boarded their aircraft and headed back to Motown with a 27-20 win, as the Redskins pondered an 0-3 start and how to turn things around.
What's become painfully obvious is that the Redskins' defense has to play much better, particularly against the pass. Last week it gave up a career-high 480 passing yards to Green Bay's Aaron Rodgers. On Sunday, Stafford passed for 385. In the season opener against the Eagles, the defense gave up 240 rushing yards — probably the only reason why Eagles quarterback Michael Vick didn't have a big passing game.
The Redskins have allowed 1,068 passing yards and 1,464 total yards in three games this season. Quite frankly, it's going to be difficult to beat anyone while giving up those types of numbers.
Statistics can often be misleading, but when the Lions needed to gain big yardage, they were successful nearly every time. So I'd say these statistics painted a pretty accurate picture.
Case in point: After the Redskins had a 57-yard touchdown pass nullified and were forced to punt, Stafford completed a 16-yard pass on the next play from scrimmage. Two plays later, he completed a 33-yard pass. Just like that, the Lions were on the Redskins' 21-yard line, finishing off the drive shortly thereafter with a 11-yard touchdown reception by Calvin Johnson to go up by 10 with less than four minutes remaining in the game.
Stafford connected with various receivers throughout the day. Three of his completions went for 33 yards or more. Johnson had seven catches for 115 yards, Nate Burleson had six for 116, and running back Joique Bell added 69 yards on four receptions.
The Redskins' remaining schedule is littered with quality quarterbacks, including the likes of Peyton Manning, Matt Ryan, Colin Kaepernick, Philip Rivers, Eli Manning and Vick again. They'll head to Oakland on Sunday to face the Raiders and fleet-footed quarterback Terrelle Pryor, who's probably licking his chops at the very thought of playing the Redskins defense.
But what's the solution? Is it changing their scheme or benching underperforming players? Or maybe even firing defensive coordinator Jim Haslett? Who knows. What is clear, though, is that something needs to change, and quickly.