Seniors' Complex Reopens after Massive Fire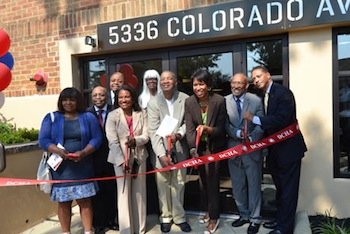 Residents displaced four years ago by a fire at a senior living apartment complex in Northwest D.C. have finally been allowed to return home after a $2.6 million rebuilding effort was completed earlier this summer.
Though renovations at Colorado Apartments were finished in June, the building was officially reopened late last month during a ribbon-cutting ceremony attended by city and housing authority officials.
"We're happy to welcome returning residents home," D.C. Council member Muriel Bowser (D-Ward 4) said during the Aug. 28 ceremony. "This building is the only D.C. Housing Authority property located in Ward 4, and it provides services to accommodate our seniors and residents who have physical challenges. We want to keep diversity in our ward and in the District, and Colorado Apartments helps us to do this."
No one was injured in the two-alarm fire on July 17, 2009, which began in the loft of the three-story building.
Housing authority spokesman Mike White said the quick response by the fire department helped save the 21-unit complex and that the agency was able to find temporary placement for all of the building's residents.
"For a city as vibrant as D.C., it's important to have as many affordable housing units as possible for moderate- and low-income residents, as well as for those seniors in our community who've given so much to the city," White said.
The revamped building, which offers one-bedroom units, also includes energy-efficient windows and doors, water-saving toilets and low-maintenance hard surface flooring throughout the apartments.
Adrianne Todman, the housing authority's executive director, praised her staff's efforts in getting the building reopened.
"It's painful for anyone to lose their home to a fire, and particularly if one is elderly or physically challenged," she said. "We applaud our team for the good work they did ensuring that our residents were taken care of aand [enabling them] to return to a well-designed, energy efficient and safe facility."