Spy Museum Plans Move to Carnegie Library as Part of Redevelopment
9/23/2013, 11:21 a.m. | Updated on 9/23/2013, 12:07 p.m.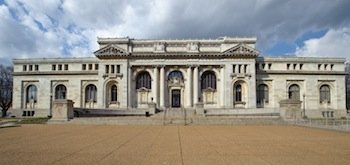 Events DC, the District's official convention and sports authority, and the Malrite Company, the Cleveland-based owner of the International Spy Museum, announced Monday the proposed redevelopment of Mt. Vernon Square, including the relocation of the museum from its current F Street location in Northwest to the historic Carnegie Library.
The joint project would add 58,000 square feet of new space to the library, create a state-of-the-art visitors center and consolidate and renovate the Historical Society of Washington's galleries and offices.
"We are excited about the possibility of relocating the International Spy Museum to the Carnegie Library at Mt. Vernon Square," said D.C. Mayor Vincent C. Gray. "I applaud Events DC and the Malrite Company for developing a public-private partnership that will revive and preserve this important historic asset while also strengthening the District of Columbia's travel and tourism industry."
The proposed development includes 40,000-square-feet of new underground space below the library for the museum, creating large flexible exhibit areas. The library's interior would be renovated to enhance special event uses for both Events DC and the museum, and the addition of a sculpted glass pavilion on the north side of the Library would house the Visitors Center, a new cafe, and the museum's retail store.
Proposed site improvements to the Mt. Vernon Square grounds include outdoor seating, a small amphitheater and a playground to create various programming options and other green space public amenities.
The plan also calls for the retrofit of existing space for the Historical Society, inclusive of a new gallery, office and collections storage space and a modern research library. As part of the redevelopment project, Events DC, which owns and operates the adjacent Walter E. Washington Convention Center, will design and program a visitors' information center in the new addition, and will also host special events in the building's public areas.
"With Mt. Vernon Square at the Convention Center's doorstep, each of these proposed uses are perfect complements to our mission of creating economic and community benefits for the District of Columbia," said Gregory A. O'Dell, president and chief executive officer of Events DC. "Given the rapid pace of growth in the immediate area, including CityCenter DC and the Washington Marriott Marquis, we envision this project becoming the northern anchor of a conventions and entertainment district that will stretch all the way down to Pennsylvania Avenue."