David Dinkins: D.C. 'Obviously Not' Ready for Navy Yard Attack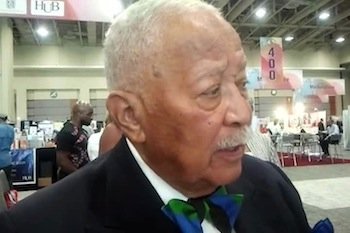 Former New York City Mayor David Dinkins, in town for the Congressional Black Caucus Foundation's 43rd Annual Legislative Conference, weighed in on the recent shooting rampage at the Washington Navy Yard, saying the District was "obviously not" prepared for such an attack.
"Somebody got in there who shouldn't have had access to the [Navy Yard] and came with a weapon," Dinkins said. "So obviously, the facility's security team wasn't sufficiently prepared to stop that."
The Sept. 16 massacre left 13 dead, including the gunman, who entered the Navy Yard with a valid pass.
Asked whether Washingtonians should fear for their safety in wake of the shootings, Dinkins said the concern should be about the proliferation of weapons, "particularly guns that have the capacity to contain a whole of rounds."
"Everybody knows that you don't use AK-47's to hunt ducks and deer," he said. The incident, he said, has "unfortunately left a huge swipe against the National Rifle Association."
Dinkins, 86, the first African-American to be elected as the mayor of New York, was promoting his book, "The Power of the Mayor."