Alexandria Unveils New Tourism 'Brand'
Margaret Summers | 9/25/2013, 3 p.m.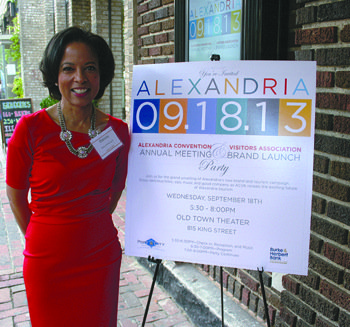 A man holds a woman close as they kiss passionately on Alexandria's Captain's Row cobblestone streets. A painting of a woman sitting on a rooster appears to have legs, and it is pictured walking down a sidewalk. A tall, attractive model sports a black sleeveless dress with a short, flared skirt made entirely of shopping bags.
These images are all part of Alexandria's new marketing campaign and "brand," "Extraordinary Alexandria," designed to generate more tourist traffic to the city. "Extraordinary Alexandria" was showcased in a program held recently in the city's restored and remodeled Old Town Theater on King Street. The brand was created by the Alexandria Convention & Visitors Association (ACVA), a private nonprofit membership organization which generates tourism and conventions that promote Alexandria, and increase the city's revenue. The event was attended by approximately 200 people, including Alexandria Mayor William D. Euille, City Council members, and other local officials.
"It's been five years since the city had a new brand," explained Patricia Washington, ACVA's president and CEO. "Alexandria has undergone many changes in that time. New hotels, restaurants and boutiques have opened. The city has the Free King Street Trolley. We needed a brand that reflects those changes."

"Diversity is a very strong theme," said Washington. "Alexandria has always been a diverse city, and the campaign reflects that diversity."
Euille, 63, told the audience that he is a "huge proponent" of tourism. "I take time off when I can to travel to different countries to market Alexandria," he said. "Every dollar we invest in tourism comes back to Alexandria." Euille noted that in 2012, tourists to the city generated $23.7 million in tax receipts. "Thousands of jobs are created through tourism when new hotels and shops are built. Tourism improves the city's quality of life. Our new brand captures the spirit of the new Alexandria."
To rebrand Alexandria for tourists, Washington said, "We had to make people think of the city as a 'top-of-mind,' 'must-experience' destination." In addition to the city's reputation as being rich in history, Washington said, the brand also highlights Alexandria's arts, shopping and dining locations. It markets Alexandria as a romantic destination, through the image of the passionate couple. One poster featuring the image bears the caption, "Let's get carried away."

Washington said market research was conducted to determine the ways in which Alexandria appeals to tourists. "We interviewed 100 local people who live in Alexandria," she said. "We also interviewed people from the 'theater markets' of Baltimore, Philadelphia, and New York. And we surveyed 1,000 visitors online." The online respondents were from 47 states and 23 countries, she said.
The primary target audiences for the new brand, said Washington, are what she called "cosmopolitan and discerning affluent adults" between the ages of 45 and 64; young urban professionals ages 25 to 40 who seek enriching and new experiences; international travelers; meeting planners who want to hold large meetings and events in the city; and business travelers.
Media strategies for reaching these target audiences with the new brand were updated, said Washington. "We used to conduct 80% of our advertising in print and 20% in digital," she said. "Now as Internet and social media use has increased, we conduct 60% of our advertising in digital, and 40% in print." One example of the effect of social media on tourism and travel, said Washington, is that 52% of all travelers click "Like" on Facebook pages specific to their impending vacations, which influences other prospective tourists looking for interesting locations to visit.
"You can help us extend the brand," Washington told the audience. Individuals can join the "Extraordinary Alexandria" campaign, by using the hashtag #ExtraordinaryALX when they Tweet on Twitter, post on Facebook or take Instagram photos of their experiences in the city. Every week, a #ExtraordinaryALX story will be featured on the Alexandria Convention & Visitors Association's Facebook page, VisitAlexandriaVA.