D.C. Political Roundup: Nadeau Wants to Represent Ward 1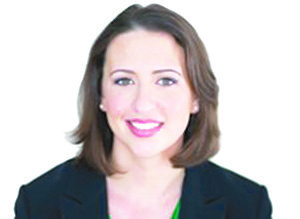 Former Ward 1 Advisory Neighborhood Commissioner Brianne Nadeau is running for the Democratic Party nomination for the Ward 1 D.C. Council seat. The primary will be held on April 1, 2014 and Nadeau thinks that it is time for new leadership representing the ward in the John A. Wilson Building in Northwest.
"It is time for a new approach and I want to empower the new voices in Ward 1," Nadeau, 32, said. "I want to improve the quality of life in Ward 1 in the areas of education, expanding affordable housing, and making life easier with better transit options and access to retail centers. Residents in Ward 1 want a good place to raise their kids and for seniors to age in place."
Nadeau is also concerned about the ethics scandals that have plagued District politics in recent years.
"I want to help get rid of the bad actors in D.C. politics," she said bluntly.
Nadeau, who works as a public relations professional, served as the commissioner for 1B05 from 2007-2011, representing a district that covered the growing U Street corridor. She is also the vice chairperson of the Ward 1 Democrats.
Ward 1 is the most racially-diverse political jurisdiction in the city with a bare majority of white residents. It also has the largest bloc of Latino voters and has a growing Asian population, according to census statistics.
Nadeau embraces the ward's diversity, saying that she will communicate with all of the ward's residents.
"I am working to get to know the Latino community better and I want to know how to make their lives better in the city," she said.
If elected to the D.C. Council, Nadeau wants to support small businesses by making sure that the District government is responsive to their needs. She also wants to strengthen schools by practicing oversight on the District education budget and by bringing together parents, teachers, school administrators and community leaders to improve the educational experience of young residents.
Nadeau recognizes that if elected, she will deal with citywide issues. She said that the economic concerns of residents east of the Anacostia River will not be ignored.
"There has not been a lot of [economic] opportunity in that part of the city but that is changing," Nadeau, pointing out the proposed D.C. United Stadium in Southwest as an example of possible job and business opportunities for eastern Washington residents. "Everyone should benefit from the economic growth that is taking place in the city and I will work to see that."
Bobb is Mum on Mayoral Run
Former D.C. City Administrator Robert Bobb hears the whispers around the city that he may be a candidate for mayor in 2014 but he is not revealing what, if any, his plans are.
"I don't know if I am going to run for mayor," Bobb, 68, said. "People across the District have approached me about running."
Bobb served as the District's city administrator during the mayoral administration of Anthony Williams from 2003-2006. He has managed such cities as Kalamazoo, Mich., Santa Ana, Calif., Richmond, Va., and Oakland, Calif.
Bobb is considered one of the most experienced city managers in the country and has a reputation in the District as a no-nonsense leader who focuses on getting things done. He entered politics in 2006 when he was elected as the president of the D.C. Board of Education.
In a move that was surprising to some District residents, Michigan Gov. Jennifer Granholm (D) appointed Bobb as the emergency financial manager of the Detroit public schools in March 2009. He served in that capacity until March 2011, and is credited for using $500 million in federal stimulus money to improve facilities that led to a successful enrollment drive, increasing the student population by 900.
Bobb is the president and chief executive officer of the Robert Bobb Group of Northwest, a company that focuses on public sector management and advisory services. Bobb said that he will not rule out running for mayor in 2014.
"I am weighing all of my options," he said with a smile.