D.C. Resident Advocates Against Violence
Victim of Unspeakable Crime Seeks to Help Others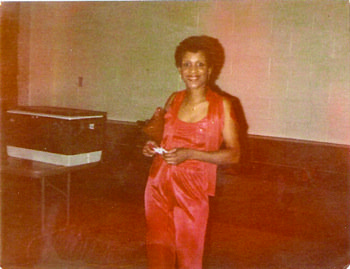 Aaron Alexis, likely to be known forever as the Navy Yard shooter, probably fought many demons. But his biggest obstacle to overcome could likely have been humiliation.
That's according to someone who knows a little about mental health illnesses and being humiliated.
"Everyone, the news media, authorities and people in general have focused on the shooter's anger, but the key behind many acts of violence is humiliation," said William Kellibrew, a Northeast resident and president of the William Kellibrew Foundation, an organization located in Northwest that seeks to help break the cycle of violence within local communities.
Kellibrew, an international trauma and recovery advocate, and motivational speaker, planned to attend the Voice Awards in Hollywood on Wednesday, Sept. 25, where officials from the Substance Abuse and Mental Health Services Administration were scheduled to pay tribute to him.
"The honor they are bestowing upon me is important because it gives another voice to mental health and domestic violence," said Kellibrew, 39, who suffers from depression. "At some point, which is what happened to me and to one of my brothers who is now serving 99 years in prison, humiliation gets the best of us and we do violent things," Kellibrew said of Alexis, who allegedly shot and killed 13 people in a rampage at the Navy Yard in Southeast on Monday, Sept. 16.
At the age of 10, Kellibrew witnessed the shooting deaths of his mother, Jacqueline Kellibrew, and his 13-year-old brother, Anthony Cephas, at the hands of parolee Marshall Brent Williams, his mother's abusive boyfriend.
Kellibrew said he escaped only after pleading for his life. The very next day, after being taken in by his grandparents, Kellibrew said his grandfather flew into a rage with a neighbor and Kellibrew watched him shoot another man.
Eventually, Kellibrew grew up under the guidance of a loving grandmother, he said.
"So much had happened and so fast. I watched helplessly as my mother and brother were shot at point blank range. The killer then released me and he committed suicide," Kellibrew said. "I was scarred for life. I look back on that day quite often and the humiliation still exists. Because of it, I did things I should not have and I know one of my brothers did, which is why he's serving all of those years in prison now."
Kellibrew himself considered and attempted suicide. He said an assistant principal at his school, Charles Christian, and a social worker, Christine Pierre, eventually came to his rescue, providing him with the kind of therapy he needed.
"I got to a point where I thought I could not live anymore, I had lost my mom and my confidante, so it was the investment of Christian and Pierre, and that of my grandmother that made a big difference," he said.
The horrifying experience of witnessing the murders eventually led to Kellibrew dedicating himself to helping others who battle with mental health, domestic violence and other issues.
Traumatic experiences can be dehumanizing, shocking or terrifying, singular or multiple compounding events over time, and often include betrayal of a trusted person or institution and a loss of safety, according to officials at the Substance Abuse and Mental Health Services Administration's National Center for Trauma-Informed Care in Alexandria, Va.