House Vote Could Worsen Food Insecurity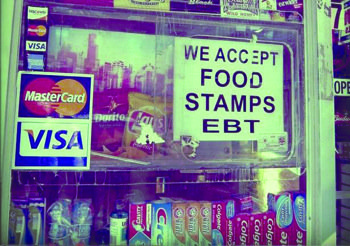 Beckmann said if the cuts are implemented, charities and churches would have to nearly double their food assistance to make up the difference.
Following the vote, the Chairs of the Congressional Tri-Caucus – comprised of the Congressional Asian Pacific American Caucus (CAPAC), the Congressional Black Caucus (CBC), and the Congressional Hispanic Caucus (CHC) – denounced the bill.
"With this vote, Republicans chose to remove the assistance that millions of Americans rely on to feed their families each day. At a time when national unemployment remains high, we should be supporting these programs; not cutting them," said CBC Chairman Rep. Marcia Fudge (D-OH). "This vote does not reflect the values and principles of our nation.  We lose our direction when we turn our backs on millions of Americans in need.  I am confident that we will be able to restore funding to the SNAP program in Conference and protect the integrity of one of our most important anti-poverty programs."
Her CAPAC colleague agreed.
"Once again, House Republicans have put struggling families on the chopping block," said Rep. Judy Chu (D-CA). "These cuts have a profound impact on the Asian American and Pacific Islander (AAPI) community. In the wake of the Great Recession, the number of AAPIs in poverty has increased by 38 percent, and [more than] 10 percent of our community relies on SNAP benefits to survive. It's time for the Republican leadership to stop playing games with the most vulnerable among us. They are literally taking the food out of hungry mouths.
CHC Chairman Rep. Ruben Hinojosa (D-TX) castigated his Republican colleagues for betraying families, military veterans, the disabled, seniors and children who will be drastically affected by the bill.
"It will literally be taking food out of the mouths of our most vulnerable residents. SNAP is a vital tool to fight hunger and help struggling Americans feed their families as they seek new employment, send their children to school, and get themselves back on their feet," he said. 
These cuts and the continued assault on social welfare programs by the Tea Party and GOP conservatives come at a time when churches, food banks and charities are staggering under the weight of the fallout from the 2008 economic meltdown, a lingering recession and a job market that left more than 12 million people out of work. More than $85 billion in across-the-board cuts caused by the Sequester last year has only exacerbated the problem for those dependent on programs like SNAP and the Women with Infant Children (WIC) Program.
Democrats and Republicans in Congress have already sliced about $800 from social welfare programs as a result of contentious debates over the debt ceiling and the Sequester. Those cuts meant that 600,000 women, infants, and children lost or stood to lose WIC services; 70,000 children were disallowed from taking advantage of Head Start programs; and medical staff at community health centers saw 900,000 fewer patients, said Brian Smedley, Ph.D., vice president of the Joint Center and director of its Health Policy Institute, during a panel discussion in March.
Non-whites and the poor continue to be disproportionately affected by the actions of Congress. According to two reports produced by the Bread for the World Institute, hunger and poverty are putting more African-American women and children at risk of malnutrition. More blacks live in poverty and are likely to go hungry and for women and children that means that one-third of all black children live in poverty. Further, nearly 50 percent of households headed by a single woman exist in poverty.
Recently released data from the U.S. Department of Agriculture indicates that 25.1 percent of African-American households are food insecure and among households with children that number stands at 29.1 percent.
The principal cause of hunger is the inability to afford sufficient and nutritious food.
Despite the challenges Ashley said, she and other advocates will continue to fight on behalf of the most vulnerable.
"If the vote is any indication, it was a close vote. Advocacy is working. We have to keep making noise, let them know that these cuts are unacceptable," she said.