NNPA, Texas Southern Sign Agreement for Internship Program
D.J. Mickey, The Houston Sun | 9/25/2013, 2:43 p.m.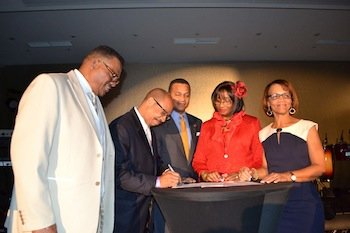 The National Newspaper Publishers Association (NNPA) signed a Memorandum of Understanding for an internship program with Texas Southern University during a recent board meeting in D.C., a partnership called "monumental" for Black press.
University President John Rudley and Arizona state Rep. Clovis Campbell Jr., NNPA chairman and publisher of the Arizona Informant, signed the agreement on Sept. 19 in front of the NNPA membership and a standing-room only crowd at the W Hotel during the NNPA Annual Leadership Reception in conjunction with the Congressional Black Caucus Foundation Annual Legislative Conference.
"This agreement displays NNPA's commitment to young African American students and our pledge to reach out to the next generation of leaders," Campbell said. "It is only the beginning of the Black press and Historically Black Colleges and Universities joining forces to ensure that the legacy of both organizations. As our future leaders find their niche and make history, the NNPA will be there to record it."
The agreement outlined collaboration strategies to advance journalism and business initiatives through the use and training of interns who are pursuing careers in the media, communications and business. Students will work with editors and publishers in print, digital, film and social media along with marketing, design and event planning.
The university's communication and business schools will supply the interns and monitor their progress.
Rudley said the collaboration will soon expand to the other 10 schools in the Southwestern Athletic Conference.
"I am proud that Texas Southern University is the first to sign such an important MOU with NNPA as it will help our students learn and provide international access to further opportunities by engaging in this effort," he said.