Norton Backs Street Activism on D.C. Statehood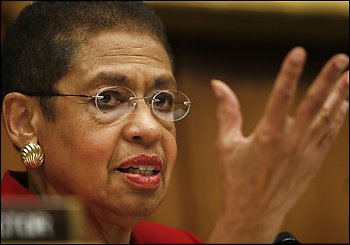 The District's delegate to the U.S. Congress said recently that she supports D.C. statehood activists taking aggressive, yet peaceful actions to obtain full citizenship.
Eleanor Holmes Norton (D), who is known for her methodical and professional manner in conducting business, said at her Congressional Black Caucus Foundation's 43rd Annual Legislative Conference's issue forum on D.C. statehood on Thursday, Sept. 19, that if District residents peacefully demonstrate at the U.S. Capitol to fight for their rights as citizens, she is behind them fully.
"Women won the right to vote in 1920 because they took to the streets and protested," Norton, 75, said. "Grassroots activists in this city need to go to the Capitol to let the Congress know that we in the District do not accept second-class citizenship."
Since the District won the right to limited self-government in 1973, there have been public demonstrations for D.C. statehood that have largely been peaceful. In 1993, D.C. Mayor Sharon Pratt Kelly was arrested on the grounds of the U.S. Capitol for protesting on behalf of D.C. statehood.
In April 2011, D.C. Mayor Vincent Gray and some members of the D.C. Council and District residents were arrested next to the Dirksen Senate Office Building for supporting D.C. statehood. While these incidents have drawn some attention from the international media, no momentum for District statehood has been sustained and the movement has gone back to its lethargic state.
D.C. Council member Marion Barry (D-Ward 8) has similarly suggested several times that the best way to get the attention of U.S. representatives and senators are to go to their offices and stage a sit-in. It is an idea that of which Norton is open.
"People have to remember that I am a member of Congress and I cannot lobby on behalf of statehood," she said. "It is the citizens who need to do that."
Kimberly Perry, executive director of DC Vote, an organization that is working to get Congress to grant District residents full citizenship, spoke at the issue forum on the legislative and legal history of the fight for D.C. voting and statehood.
Perry, 42, talked about the 1978 constitutional amendment that fell short of ratification and the historic 1993 D.C. Statehood bill sponsored by Norton that did not pass but generated a great deal of discussion, in addition to others that did not pass.
Perry said that a mass protest by District residents on the U.S. Capitol is a great idea but participation would be needed.
"We would need bodies in order to do that," she said. "Right now, our organization is focused on educating people about statehood."
Perry said that it is not right for the nation's leaders not to talk about the District having full citizenship.
"You cannot talk about democracy in Egypt and Ethiopia and not talk about democracy here in the city," Perry said.
Norton expressed disappointment that President Obama did not talk about D.C. statehood-which he does support-at the Wed., Aug. 28 March on Washington, but praised former president Jimmy Carter who did. She also said that retrocession of the District into Maryland "made no sense."
"Maryland does not want the District and you cannot impose something like that on a state without its approval," she said.
Perry said that if statehood is achieved, it will be because of the efforts of the average District resident.
"Each District resident is an ambassador for D.C. voting rights," she said. "We beg you; go spread the word to your family and friends across the country."