P.G. COUNTY BRIEFS: Council Members Among 2013 Academy for Excellence in Local Government Fellows
9/25/2013, 3 p.m.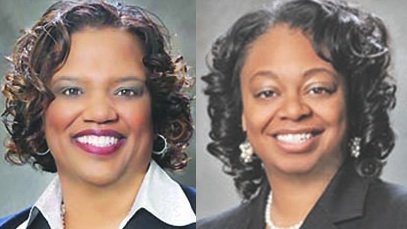 Prince George's County Council Members Ingrid Turner (D–District 4) and Karen R. Toles (D–District 7) were among the more than 100 state public officials honored during the 2013 graduation ceremony for University of Maryland Academy of Excellence in Local Governance Fellows. The ceremony took place on Sunday, Sept. 15, 2013, at the Memorial Chapel, on the University of Maryland College Park campus.
Academy Fellows completed required core and elective classes designed to meet their professional needs as municipal or county officials in local government. Through the program, Academy Fellows not only enhanced their understanding of local government issues and ethical standards for public service, but also developed a foundation for informed policy-making and effective governance.

Prince George's County Council Chair Andrea C. Harrison (D–District 5) congratulated Council colleagues Ingrid Turner and Karen Toles, and all Academy Fellows on their recent accomplishment.
"Participation in the Academy for Excellence in Local Governance is a wonderful opportunity for public officials to work across jurisdictional lines and increase their local government knowledge base. My colleagues' participation in the program will greatly benefit the residents of Prince George's County and all Marylanders, and we look forward to their continuing work as Academy Fellows."

University of Maryland School of Public Policy Dean Donald F. Kettl said, "This graduation celebrates the important commitment to public service that these public officials have made. Their work in the Academy not only prepares them for even greater service in the future it lays the foundation for excellence in Maryland's government in the future. We're very proud of this important effort."
Prince George's County Council Deputy Administrator, William M. Hunt, and Turner's Chief of Staff, Tomeka C. Bumbry also graduated as 2013 Academy Fellows.
The Academy of Excellence in Local Government is a collaborative effort between the University of Maryland School of Public Policy, the Maryland Municipal League and the Maryland Association of Counties.