Rain or No Rain, H Street Festival Shines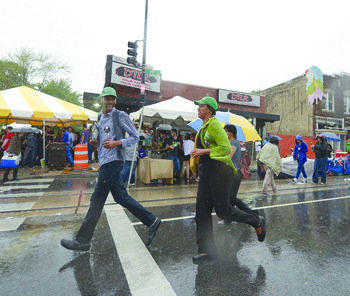 Overcast skies and sometime heavy rains did little to dampen the spirits and mood of the hundreds of thousands of people at this year's H Street Festival.
Erica Spell and her mother Evelyn King were among the estimated 150,000 to 175,000 people from points all around the District, the region and elsewhere who soaked up the eclectic mix of art, music, fine art and delectable food Saturday afternoon.
It was her third time at the festival, Spell said, and she was as excited this time as in the past.
"The art draws me here," said the 27-year-old Glover Park resident. "It's the best art festival in D.C. It's a good opportunity to see what Washington has to offer. It's a delightful family environment, very nice and draws people from all walks of life."
Spell and her mother watched as Spell's husband, Cherif Mamadou, applied paint with flourish, constant motion and dance moves to a canvas sitting on an easel.
King, 50, a Charlotte, N.C.-area resident, reveled in the sights, smells and sounds that enticed and pulled the vast crowds to the heart of the burgeoning and increasingly popular neighborhood and business district.
Along the 10-block route, local bars, eateries and restaurants, food vendors, restaurant stands and food trucks catered to people's hunger and desire to sample the local, regional and international fare. There was a mini-fashion show, Zumba sessions, a rock wall and an assortment of activities for everyone. And more than 50 artistes on 10 stages performed throughout the day and DJs filled in during the gaps in performances, weaving an aural web that captured the attention and the ears of the crowds.

Folks bobbed, rocked and danced to a potpourri of music including reggae, salsa, latino music, jazz, rhythm and blues, soul and go-go delivered by the bands and DJs. Meanwhile, vendors manned close to 200 booths selling clothes, jewelry, handbags, photographs, trinkets, paintings and other artistic items in tents and kiosks that lined both sides of the street.
Sarah Cohen and Maria Barry who were working the Route 11 Potato Chips booth, also enjoyed the festival. Cohen, who owns Route 11, said the festival reminded her of Brooklyn in D.C., calling it "unpretentious" with a "good variety of people."
Cohen, who grew up in the District but lives in the Shenandoah Valley, said the event proved to be profitable.
"Business has been good. Oh yeah, chips have been sold," she joked. "This is a perfect event for us because people didn't know that we had this company and that it's local."
Barry, 43, a D.C. resident since 1996, said she worked the festival last year.
"It looks longer and is really diverse," she said. "I think it's an awesome crowd, friendly and everyone has an umbrella. I've been to a lot of festivals but it's different [here]. If I wasn't working, I'd be out there."
Such comments are music to Anwar Saleem's ears.

"Last year we had between 75,000 and 100,000 people here. I would say we had a minimum of 175,000 [this year]. It was packed, man," he said. "I saw waves of people along the route and I'm not surprised. We more than doubled the footprint and the lots beside businesses are full."
Saleem said that there were three ambulances on standby as a precaution, but they "had no work to do."
Saleem, executive director of H Street Main Street, the organization that organizes the festival, said he remembers eight years ago during the festival's debut when about 500 visitors came out to enjoy the offerings. Now, he said, the festival has taken off.
"What other festival in D.C. keeps people despite the rain?" he asked. "I've never seen anything like that in my life. The music kept playing. We had to fight to get people off the street because they wanted to stay and enjoy themselves. On H Street, we're trending. We've done what no other neighborhood has done in D.C. and the Eastern seaboard. This attracts new business. We help fill vacancies," he said.