Redskins Top Raiders, 24-14, For First Win of Season
WI Web Staff | 9/29/2013, 7:15 p.m.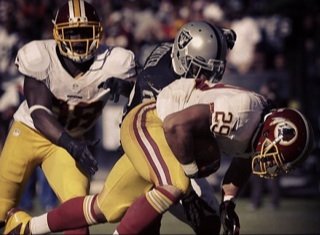 The Washington Redskins defense harassed Oakland Raiders quarterback Matt Flynn all afternoon Sunday, sacking him seven times en route to a 24-14 road win to avoid a 0-4 start this season.
After falling behind 14-0 early, Washington scored 24 unanswered points, including a 45-yard interception return by cornerback David Amerson in the second quarter.
Robert Griffin III completed 18 of 31 passes for 227 yards, including a go-ahead touchdown to Pierre Garçon late in the third quarter.
Flynn, who started for an injured Terrelle Pryor, threw a touchdown pass early but could do little afterwards.
Ryan Kerrigan, one of three Redskins with two sacks on the day, stripped Flynn midway through the fourth quarter for the second Raiders turnover, setting up Roy Helu Jr.'s 14-yard run two plays later to give Washington a two-score lead.