COMMENTARY: Redskins Win Doesn't Change Much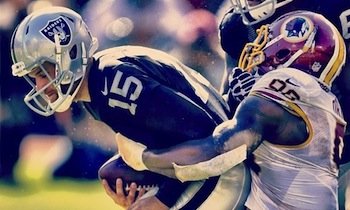 Unless you're emotionally tied to one of the two teams, watching the Redskins-Raiders game on Sunday was like watching paint dry.
The Redskins won, 24-14, ending a three-game skid to start the season, which, I'll grant you, is good news. Another loss would have probably dashed all playoff hopes. And despite all the early-season woes, the win sends Washington into its bye week just one game out of first place in the NFC East.
However, if you can temper your enthusiasm for just a moment and look beyond Sunday's final score, you'll see an error-filled contest that will turn your emotions as flat as day-old beer.
Prior to the start of the season, we heard plenty about how the Redskins are a solid playoff contender, featuring one of the league's most dynamic quarterbacks. Thus far, we've seen very little to support that.
It's become a familiar narrative for Redskins fans this season: the team shoots itself in the foot early and often with one unforced error after another. Though they ended up winning, things weren't much different Sunday, quite frankly.
Washington found themselves trailing 14-0 in the opening quarter, which included a blocked punt recovered in the end zone. That was one of several mistakes made by the Redskins' special teams, which has actually played worse than its much-maligned defense.
Robert Griffin III, who started the season with three consecutive 300-yard passing games, certainly wasn't sharp, either, as he missed several open receivers and even threw a bounce pass early. In the second quarter, on a second-and-goal from the Raiders' 4-yard line, he threw the ball out of the end zone, but was still within the pocket. The intentional-grounding penalty essentially killed the drive and made Griffin appear amateurish.
If you're thinking that Griffin and the special teams were the only aspects of the squad that didn't play well, think again. Wide receiver Pierre Garcon was hit with a holding penalty that wiped out a long run by Griffin in the third quarter. On another play, Griffin connected with tight end Logan Paulsen, who fumbled while struggling for extra yardage.
The aforementioned defense, which had allowed 32 points per game before Sunday's contest, finally came to life, allowing just seven points while garnering as many sacks, albeit against a backup quarterback that proved to be immobile. But there were also lots of missed tackles — one checkdown pass to Denarius Moore turned into a 12-yard gain after three Redskins failed to take him down.
Whether the Redskins will contend this season was called into question again Sunday because they seemingly made every effort to beat themselves. The same errors that typically occur due to a lack of focus and discipline are still happening in Week 4, which doesn't bode well.
And it wasn't as if they were playing the Lions and superstar wide receiver Calvin "Megatron" Johnson. Or the Eagles with coach Chip Kelly's speed-'em-up offense. Or the Packers, featuring Pro Bowl quarterback Aaron Rodgers. They were facing the lowly Oakland Raiders, a team that for the past few seasons has been in disarray and are likely the easiest opponent the Redskins will see all season.
Washington didn't win Sunday, they survived. They managed to get out of Oakland with a win over one of the league's worst teams — one missing several key players. Yes, the losing streak has ended. But the Redskins have not turned the corner.