Alcorn Beats Jackson State in Weekend Series
4/2/2014, 3 p.m.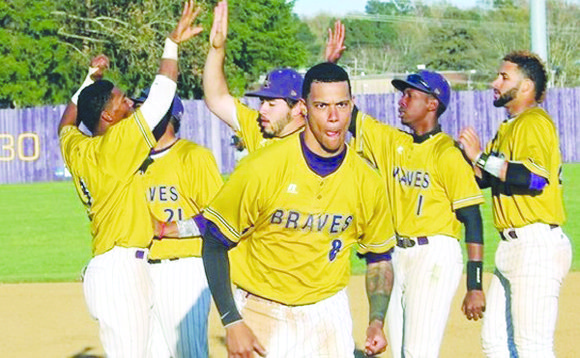 After last night's walk-off home run by Edgardo Salas, the Braves came into Sunday with tons of momentum looking to sweep Jackson State this afternoon. Jackson State took game one 12-9 and the Braves rallied late once again to defeat the Tigers in game two 7-6.
The Braves held the Tigers to one hit and no runs in the top of the ninth. After Charles grounded out to first, Burl reached base on a walk. Peavey was the hero of the day hitting a shot to right center and Burl raced all the way from first to home giving the Braves their second come from behind victory of the weekend.
The Braves move to 5-7 in SWAC play and 5-24 overall. They face Southeastern Louisiana on Wednesday night in Hammond, La. before returning home with another SWAC weekend series as they welcome Alabama A & M to the reservation.
Gambling State University Track Team Honored by University President
Grambling State University President Frank G. Pogue recently honored the members of its track and field team following a championship season.

"It has done my heart justice to hear the brotherhood, respect and love you have said (you have) about yourself, your coaches and Grambling," said Pogue, who sat attentively listening to each team member. The president said there are things "that many people do not get to hear," Pogue said.
Pogue honored the team for winning the 2014 Southwestern Athletic men's indoor track & field championship with a luncheon in his private, presidential dining room in McCall Dining Hall Wed., March 26. This winning season was the third consecutive SWAC men's indoor title and the fourth in the last five years for head coach Bertram Lovell, who won SWAC coach of the year honors.
Athletic Director Aaron James joined the group. The 23 young men honored during Wednesday's luncheon were appreciative, respectful and deeply rooted in Grambling State tradition, showing a clear "brother's keeper" commitment to their teammates and parent-like respect for their coaches, Lovell and assistant coach Ashley Curry, who graduated from GSU with a bachelor's in biology in 2007 and a master's in sports administration in 2013.
The team has established strong bonds of camaraderie, a great love and respect for each other as brothers and a desire to help each other with academics, studying and generally bettering their lives.
Each of the young men credited Lovell and GSU for giving them a chance when other universities had given up on them or made it obvious that they were only concerned about what they did on the field and the track. After dining on smothered chicken, sautéed vegetables and peach cobbler, each team member took a turn to say a few words to their teammates, and the coach who has meant so much to them.
"Coach Lovell teaches his vision through us," said senior Jamael McTear, 21, a criminal justice major from Detroit. "He cares more about academics than track, asks what is going on in our lives and he's just very supportive of us as individuals."