Bowser, Primary Winners Take Victory Lap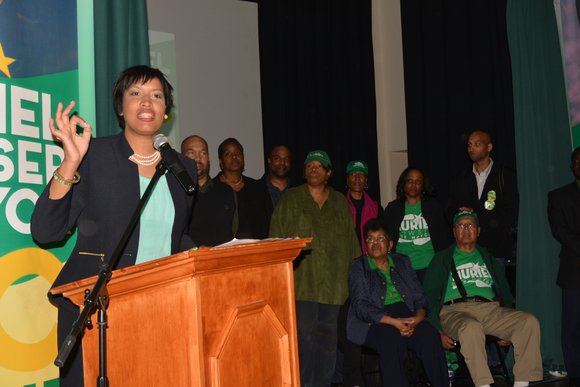 D.C. Council member Muriel Bowser, the newly elected Democratic nominee for mayor in the Nov. 4 general election, thanked her supporters Wednesday for her convincing upset of incumbent Vincent Gray during a press conference at the National Press Club in Northwest.
Bowser said that voters spoke with one loud voice in Tuesday's Democratic primary.
"I am so happy that 44 percent of Democrats endorsed my agenda," Bowser, 41, said. "I want to give a special thanks to the people of Ward 4 of whom I have represented for seven years. We will continue to operate our campaign headquarters on Georgia Avenue and on Martin Luther King Avenue in Anacostia and we will carry on the ideas of Democrats across the city as the campaign begins anew."
Bowser will face her council colleague, David Catania, in the general election. Since home rule was instituted by Congress in 1973, the Democratic party nominee for mayor has won the office decisively in the general election.
Bowser carried Wards 1, 2, 3, 4 and 6 while Gray won Wards 5, 7 and 8. She said that efforts will be made to reach out to Gray and his supporters.
"I have not had a conversation with the Mayor Gray and I suspect that we will be doing that in the future," she said. "I am asking every Democrat, independent and Republican, including Gray supporters, to support me."
Elsewhere in the District, former Ward 1 advisory neighborhood commissioner Brianne Nadeua and Charles Allen, former D.C. Council member Tommy Wells' chief of staff, won their Ward 1 and Ward 6 council races, respectively.
One of Bowser's opponents, Council member Vincent Orange (D-At Large), was on hand for Bowser's press conference. Fellow Council member Anita Bonds (D-At Large), who served as the chairman of the D.C. Democratic State Committee and decisively won her re-election bid Tuesday against Nate Bennett-Fleming, was also present.
Bowser's victory drew national attention, including from Democratic National Committee Chairman Debbie Wasserman Schultz.
"On behalf of Democrats across the country, I congratulate council member Muriel Bowser for securing the Democratic nomination for mayor of the District of Columbia," the Florida congresswoman said. "Now one step closer to election as mayor of the nation's capital, Muriel is the most recent example of how our democracy is strengthened by women in positions of leadership and holding elected office. With the primary behind us, Democrats are committed to uniting behind Muriel and working to ensure her general election victory in November."
Nadeau also scored a major upset with her Ward 1 victory, ousting Council stalwart Jim Graham, who has served since 1999. Nadeau had 58 percent of the vote to Graham's 40 percent.
"This campaign did what many thought was impossible," Nadeau said. "We built a strong grass roots movement for progressive change, one that resonated far and wide with the voters. We proved that a campaign based on greater transparency and ethics reform can succeed."
Allen defeated Darrel Thompson, a former aide to Senate Majority Leader Harry Reid (D-Nev.), 57 percent to 41 percent.
Allen, 37, said local connections made the difference.
"We won this race by neighbor connecting with neighbor," he said. "This speaks to the future of the ward and the city."
Bonds announced that the city's Democrats will gather April 4 to celebrate the wins and the Democratic Party itself.
"We will hold a unity breakfast at Matthews Memorial Baptist Church," Bonds said. "This is the chance to bring people together. We did this four years ago and it was fairly effective and we are doing it again."