Bowser Trumps Gray in Democratic Primary
Dorothy Rowley | 4/2/2014, 12:20 a.m. | Updated on 4/2/2014, 11 a.m.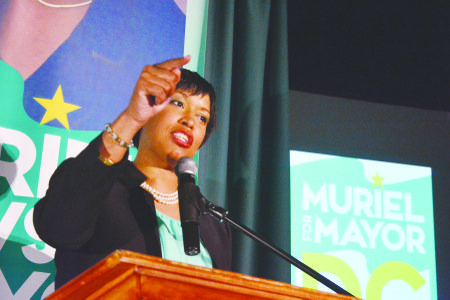 Ward 4 Council member Muriel Bowser scored a big upset in the District Tuesday night by defeating incumbent Mayor Vincent C. Gray in the Democratic mayoral primary.
Having done so, Bowser, 42, a protégé of former Mayor Adrian Fenty and fifth-generation Washingtonian, will likely face Council member David Catania (I-At Large) in the November general election.
"Thank you to the hundreds of volunteers out there," said Bowser, who, during a dead heat battle with Gray, tapped into a share of the population that had grown weary of the cloud of suspicion that has continued to hang over the embattled mayor.
"Today is resounding affirmation of values that we share, and that the status quo is not good enough," Bowser told a crowded room of family, friends and supporters at Imagine Public Charter School in Southeast.
"We know that we can do better if we have a fresh start," she said, having explained earlier in the day that since January, her campaign has been one of the fastest-moving in the District.
"You lay out a plan and you work hard to get the job done," said Bowser, whose energetic campaign attracted a diverse mix of voters in terms of age, gender and race.
Bowser supporter, Danice Stevens, 42, of Northeast, said she never doubted her candidate's ability to win.
"Muriel has a commercial about being honest," said Stevens, who works as a social worker. "D.C. already has a shadow cast over it with all of the criminal activity from politicians. Bowser will show some integrity."
During her victory speech, Bowser also talked about the city's need for clean, safe and affordable housing and health care for all in a sustainable D.C.
"It's our job to let our friends on other campaigns know that I'm their mayor, too," Bowser said. "We're going to earn their support and hear their vision so that we'll win in November."
On the other side of town, at the Hyatt Regency Washington Hotel on New Jersey Avenue in Northwest, Gray gracefully conceded, around 11:30 p.m.
"We congratulate Council member Bowser for having 44 percent of the vote" compared to [my] 29 percent," said Gray, 71, who was banking on voters in Ward 7, where he's lived for years, to win. "And I want to thank everyone who worked with us to get us where we are," he said to resounding applause.
Noting that there is still much work his administration has to do over the next nine months of his term, Gray rattled off a list of accomplishments that he said have served the city and its 647,000 residents well. Among his achievements, he cited an expanded economy, plans for more affordable housing, reduced unemployment, and an increase in student test scores.
"I will work extremely hard for residents over the next nine months," Gray told the group of staunch supporters who chanted "Gray, Gray, Gray!" throughout his speech.
But it was the mayor's inability to shake the allegations of corruption that have haunted him and his administration for the past few years, surrounding a $667,000 shadow campaign.