Bowser Trumps Gray in Democratic Primary
Dorothy Rowley | 4/2/2014, 12:20 a.m. | Updated on 4/2/2014, 11 a.m.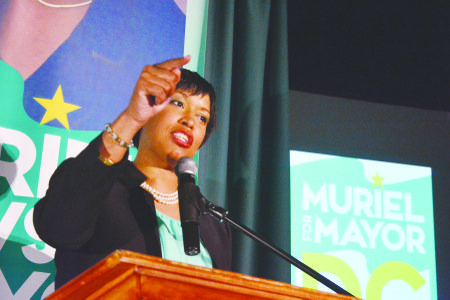 While five people involved in the campaign have pleaded guilty to felonies, U.S. Attorney Ron Machen Jr. nsists that Gray was knowledgeable about what was going on within his 2009 campaign. Gray categorically denies any wrongdoing and has not been charged in the matter.
Meanwhile, despite warm temperatures and sunny skies, voter turnout throughout the District was abysmally low for the April 1 primary.
In addition, with voter registration in the District having significantly increased in recent years, early voting which decreased by one-third for this year's primary, was attributed to a lack of interest.
"If it wasn't for that, I believe Mayor Gray would have been a shoo-in because the city is really booming," said Grant Pappas, 36, of Northwest.
However, because of the slow pace at which the voting results began to trickle in late Tuesday night, there was plenty of frustration among voters who turned out at both Bowser's and Gray's camps in hopes of finding out much earlier which candidate prevailed.
Although all 143 polls opened at 7 a.m. and closed promptly at 8 p.m., it wasn't until two hours after closing that one percent of the tallies were announced.
Just before midnight, election officials were still waiting for results from Wards 7 and 8. At one point, a volunteer for Gray's campaign announced that the District Board of Elections was having challenges counting votes.
Bowser and Gray competed with several candidates, including Council members Tommy Wells, Jack Evans and Vincent Orange.
"I think [Evans] ran his race well, but I think the level of discussion in the media distorted the race somewhat," said Robert Maffin, 85, who lives in the District.
And, while Evans, 60, the longest serving member of the council, appeared to remain true to his promise of hosting the best election night party at Stoney's in Northwest, the primary marked his second run for mayor.
Because Evans ran in the 1998 Democratic primary against Anthony Williams, who won and went on to become mayor, many Evans volunteers like Melanie Alston, 40, of Alexandria, Va., said they expected him to win based on his experience.
"I think [Evans] was truthful about what he could do for the city," said Alston. "He's trustworthy, he has been a council member for many years, so his reputation speaks for itself."
Since his term on the council extends through January 2017, Evans who chairs the powerful Committee on Finance and Revenue, will retain his council seat.
Wells, 57, a former social worker, told supporters who gathered at Top of the Hill Bar & Restaurant in Southeast, that regardless of the primary's outcome, it wasn't the end.
"You are progressive Democrats and I understand why you joined this campaign," Wells told the crowd.
"We proved that we can raise our own money and be accountable to people who vote," he said, adding that he will continue to serve the public in some capacity.
As Gray reminded his die-hard supporters of the work that still needs to be done to achieve statehood for the District, many expressed concern that the city won't be the same without his leadership.
"I'm done. I'm not voting in the November election," said Ward 6 resident Paul Moss, 35. "A lot of people were not as dedicated to Mayor Gray winning this primary as they should have been. … In 2010, we had a ground team that was non-stop and I think that this time, people just didn't have the mayor's best interest at heart.
"I told Mr. Gray when this race got started, that his problem would be many of the people who surround him," Moss said. "People wanted the prestige that came with the job, but when it came to doing the job, it was a different matter."
Adjoa Adofo, Sam P. K. Collins and Margaret Summers contributed to this report.