Buika Brings Unique Sound to the Music Center at Strathmore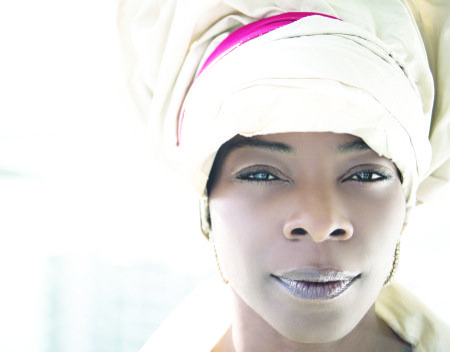 She goes by one name only. Buika.
If her name is unfamiliar now, once exposed to her unique vocal style, the name — and her sound — will stick.
Her full name is Maria Concepcion Balboa Buika, also known as Concha Buika, and her Spanish-language songs have earned her Grammy nominations for "Recording of the Year" for the song "La Nave del Olvido" and for her latest album La Noche Mas Larga for "Best Latin Jazz Album." Yet, to most on this side of the Atlantic, she is still largely unknown.
Described by critics as a Flamenco singer, perhaps due to the fact that she was born in Mallorca, Spain, the leonine-featured, 41-year-old songstress begs to differ.
"Well, I don't sing Flamenco style," she insists. "They say that I do. Some people say I do Flamenco, some say that I sing blues, some people say that I don't know. I never know what they hear when I sing. I don't call my music anything. I just sing."
On her latest, Buika works with her two main musical partners, pianist Ivan "Melon" Lewis and percussionist Ramon Porrina enhancing her extraordinary voice, which embraces the gritty, powerful nuances of the best Spanish Flamenco singers. But Buika goes beyond those confines to sing her own creations.
In fact, on La Noche Mas Largas, nearly half of the songs are original compositions by Buika which are actually credited to her. In the past, to her own admission, she has been so consumed with the artistry of singing those songs, that she allowed the business side of her work to go unchecked. By the time she reached her fourth recording – the first in 2007 was Mi Nina Lola (also a Grammy contender), followed by Nina de Fuego, and her essential 2-CD set En Mi Piel in 2011 – she learned enough of the industry to claim authorship of her own work.
Music came naturally to her, but she faced a childhood of hardship before she finally brought it out in public.
"I think I began singing before I could talk," she claims in her thick, Spanish-inflected accent. "My family all have musical capacity, but they chose other ways to make their living. But I heard music all day and all night at home. We are Africans."
Born to parents from Equatorial Guinea, Buika's father soon left the family and her mother had to raise Buika and her five siblings as a single mother. It was the advice of an aunt, who was looking for someone to take her place singing in clubs that catapulted Buika from singing around the house, to singing for audiences worldwide.
"It was tough," she said. "Those were hard times."
"I was around 15 or 16 years old. In my mama's house as a teenager, my aunt came over. She was a singer in hotels and resorts, and she said 'I think I am too old to sing in the clubs. Do any of your daughters sing?' And I saw that I could make a few bucks, so I was there," she adds. "I went out there, after always singing at home, and I started to invent and style my blues. It was too much money to say no. And the magic began. It was the first time in my life people listened to me and I got addicted. From then until now, I never stopped."
Since then, Buika has traveled the world, performing everywhere from Japan to Europe. And, she says, she has also lived in most of those places from Las Vegas to Spain. In 2011, she relocated to Miami, where she hopes to one day begin producing other singers. Until that dream materializes, she is content to spend her down time in the studio, and the rest on the road.
"To me, it has been an amazing discovery. I don't think language makes a difference. I think it is all music and it is all the same sound. Every song has its own secrets, and every song communicates what it should. You can understand everything that you need to."
Buika kicks off her North American tour on Sunday, April 6th at the Music Center at Strathmore before going on to New York, Philadelphia and Mexico City. For tickets and more information, visit www.strathmore.org.