The Castaway Elders: Living Alone and Poor
Viji Sundaram, Special to The Informer from New America Media | 4/2/2014, 3 p.m.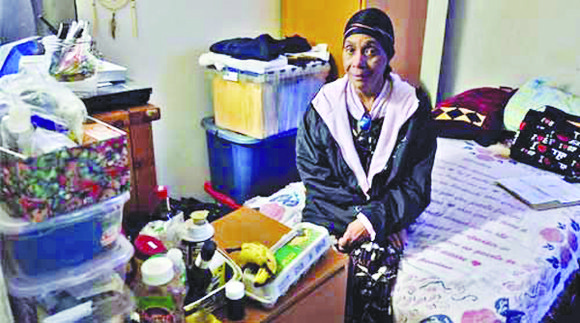 Somehow, the dozen or so hats piled atop Brenda Washington's wardrobe and those hanging from hooks on her apartment walls initially draw a visitor's gaze away from all the other items that clutter her 8 x 10-foot room.
Hats, some of them rather fancy, are the last things you'd expect to see in such profusion in a room where someone clearly lives in dire straits. Washington's closet is crammed with clothes. "I paid a lot for some of them, like my London Fog," she says of a coat. "I dress for success. Is there anything wrong with that?"
But signs of better times are few for Washington, 64, who says she hates living alone in a Central City single-room occupancy (SRO) hotel room.
Her room is on the third floor of the Raman Hotel, an 80-unit building, with shared hallway bathrooms.
Senior Poverty Increasingly Common
Washington's situation of living poor and alone is becoming increasingly common in the United States. Research shows that senior poverty is not only on the rise, but, says a 2013 report by the nonpartisan Employee Benefits Research Institute, "Blacks, Hispanics, and single women face a higher poverty rate than other seniors." The 65-plus poverty rate for Latinos was 29 percent and for blacks about 25 percent in 2009, triple the level for whites, says the study.
Recently, the ordinary challenges of living solo hit Washington when she got the flu. For nearly a week she had difficulty keeping her food down. She could barely get out of bed even to go to the bathroom, let alone to the nearby drug store for medicine, she said.
Washington said she couldn't call downstairs to the front desk or the SRO's case managers or social workers on the first floor because someone she had trusted had stolen her cell phone.
Her cramped room, its twin bed covered by a faded comforter, a mini-refrigerator with a bungee cord securing its door -- "to keep it from opening"-- has been Washington's home since things turned hard in 2010.
Washington never dreamed she would one day live alone and poor. Although she was raised with 10 siblings in San Francisco's Bayview-Hunters Point district, her mother made sure that she and her siblings never went to bed hungry.
Using her high school diploma and computer skills she had picked up studying at City College to snag jobs, Washington first worked as a clerk at the Bechtel Corporation's payroll department and then a substitute teacher for the San Francisco Unified School District. She also worked for a few years as a construction worker.
"I moved as high as I could in the work world," Washington says, tearing up as she recounts her earlier life and four failed marriages, since her first at age 18.
Domestic Abuse and Depression
Domestic violence has followed her since 1968, when she lost her 5½-month-old fetus following a dispute with her first husband.
The loss triggered depression that has plagued her for years, but the condition wasn't diagnosed until a dozen years ago. That allowed her to go on the federal Medicare program for seniors and people with disabilities.