The Castaway Elders: Living Alone and Poor
Viji Sundaram, Special to The Informer from New America Media | 4/2/2014, 3 p.m.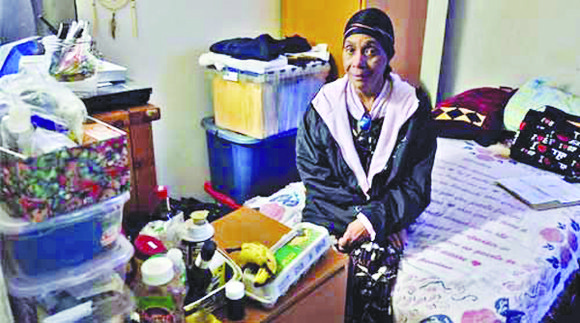 She also has had Medi-Cal (California's version of Medicaid, the health insurance plan for the poor) for as long as she can remember. Washington said she is currently waiting for her doctor to refer her to a mental health provider so she can resume taking medication and therapy for her depression.
In 2010, she fled her Vallejo home of 12 years to escape her abusive marriage.
Returning to her childhood stomping grounds in San Francisco's Bayview-Hunters Point neighborhood, she lived in her car for months, always parking in front of the Southeast Health Center, which felt familiar and secure.
But the city towed her car away when she couldn't renew its registration after it failed the smog test.
Washington's clinical depression qualifies her for Social Security Disability Insurance (SSDI), amounting to $1,015 per month this year. That enabled her to move into the SRO, which she rents for $309 a month.
Washington says that aside from her rent, her grocery bills, cell phone service ($60), dental insurance ($60), and medications (about $15) eat up a good part of her monthly income.
Alcohol soaks up the rest, she says, acknowledging that she has been an alcoholic for years. For now Washington is making the best of life in her tiny room. A small television sits on a nightstand piled with assorted canned foods, a carton of eggs, pots, pans and a bottle of Folgers instant coffee. Cleaning supplies in a plastic container are on the floor by a tiny sink in one corner of the room. A microwave, crockpot and toaster oven allow Washington to prepare meals. Her favorite? "Gumbo with crab meat, chicken, sausage, celery, onion and garlic," she replies quickly. "Oh, and I like egg omelets, too."
Washington holds out hope some day of moving onto a decent apartment. "It doesn't have to be big," she says. "I just want to have my own bedroom, my own bathroom and my own kitchen. And it would be nice if the apartment had a balcony with a view."
New America Media Health Editor Viji Sundaram wrote this article as part of NAM's Special Report, "Old and Poor in Tech City," in collaboration with Central City Extra, focusing on the effects of the tech boom on low-income elders in San Francisco's inner city. To see coverage from this Special Report, click here. This special report is part of NAM's in-depth coverage of issues affecting seniors, funded by The Atlantic Philanthropies.