D.C. Political Roundup: Council member Christopher Barry?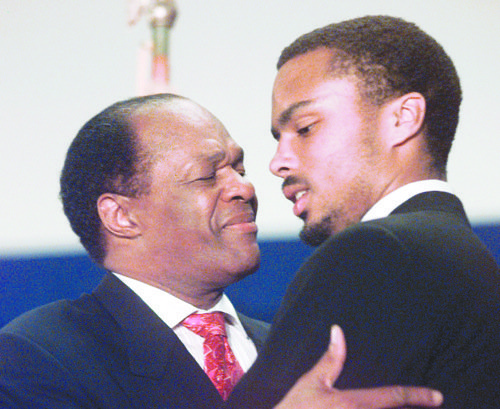 In what took many by surprise, Christopher Barry, the son of D.C. Council member Marion Barry (D-Ward 8), made an appearance with his father, D.C. Mayor Vincent Gray (D) and Bishop C. Matthew Hudson on March 19 at Matthews Memorial Baptist Church in Southeast.

While Marion Barry's endorsement of Gray dominated the event, some in the audience speculated that the younger Barry's presence had a purpose.
There's been chatter in Ward 8 on who will succeed Marion Barry and his son's name has come up repeatedly, along with that of former D.C. State Board of Education member Trayon White, Ward 8 Democrats President Natalie Williams and Historic Anacostia neighborhood leader Charles Wilson. Christopher Barry said that he has another agenda, for now.
"I am interested in helping small businesses and supporting entrepreneurship," said Christopher Barry, 33. "I also want to help our returning citizens. Politics is not a priority right now."
Christopher Barry is remembered for his eloquent eulogy of his mother, Effi, in 2007 and making spirited speeches on behalf of his father during campaign events. He served as the treasurer for his father's 2008 re-election campaign. 
A story circulated in the press in 2011 that quoted Ward 8 political activist Jacque Patterson as saying that Marion Barry told him that he wanted his son to succeed him as council member. Patterson said recently that as far as he knows, Marion Barry hasn't changed his mind. Also, in a recent interview with the Informer, White pointed out that being the council member for Ward 8 is an anointment.
Christopher Barry, who owns a small construction business in Ward 8, has long said that he's not interested in a political career, but lately it appears that he may have had a change of heart.
"I have my own ambitions in life and a son is loyal to his father," he said. "I am now focusing on making sure that people are not left out of the city's growth and people should be able to afford to live here. When and if that times comes for me to serve on the city council, I may step up and do it."
Silverman Eyes At-Large Run
Elissa Silverman, a former journalist and a budget analyst at the D.C. Fiscal Policy Institute in Northeast, may run for an at-large D.C. Council seat again.
D.C. Council member David Catania (I-At Large) hopes to be city's next mayor and will run in the November general election. Silverman, who had an impressive electoral debut in the April 2011 special election to fill the seat of Phil Mendelson, confirmed that she may run for Catania's spot.
"I am strongly considering it," said Silverman, 41.
Catania may decide to pull out of the mayor's race and run for re-election but chances are slim that will happen. If he wants to keep his council seat, Silverman will likely not challenge him.
Silverman came in second to D.C. Council member Anita Bonds (D-At Large) during the 2011 special election and she won points from political observers for running a focused, issue-driven campaign that had supporters from all walks of life throughout the city. Some of Silverman's supporters wanted her to take on Bonds for a rematch in the Tuesday, April 1 Democratic Party primary while others wanted her to run for D.C. Council member Tommy Wells' seat in Ward 6.
Silverman declined to run in both contests but may not pass up the chance to run as an independent in the general election.
"I will let everyone know soon what I will do," she said.